The Junior Rivington Pike Fell Race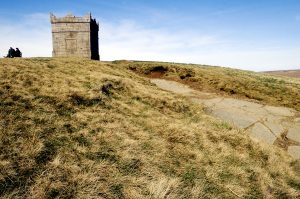 The junior pike race is a scaled down version of the iconic Rivington Pike Fell Race with each age category making their way up the route to various turnaround points.
Our sincere thanks to the United Utilities and the landowner for their kind permission to run the event. 
Where:   Rear of Rivington and Blackrod School, Rivington, Bolton, BL6 7RU.
Organised by:   Horwich RMI Harriers. Queries to Pete Ramsdale (p.ramsdale@sky.com)
When:   Traditionally run on Easter Saturday this year Saturday 8th April 2023
Registration:  Number collection and registration will be based at the rear of the school and clearly signposted.
 Prizes:   Top three in each category (male and female).
Presentation will be made at the conclusion each race.
Routes:   
U9 –  0.94 Km with 111 Approx. Feet Climb
U11 – 1.54km with Approx. 175 Feet Climb
U13 –2.24 Km with Approx. 321 Feet Climb
U15/U17 – 3.1 Km with approx. 519 Feet Climb
 In the event of bad weather, and to ensure the safety of competitors and marshals on the high and exposed terrain, the race organiser reserves the right to change the route format.
Start and Finish:   The Start/Finish line is approx. a 10 Minute walk from the Main Race Registration and Car Park Areas.
Start times:
U9 – 12.15
U11 – approximately 12.30
U13– approximately 13.00
U15/U17 –  approximately 13.30
No races will start earlier than the advertised time. 
Car parking:   Please be mindful of neighbours and residents when parking.
Kit:   The routes cover high and exposed terrain. All runners in every category will be expected to carry kit that complies with FRA guidelines (U11, 13, 15, 17 age categories expected to carry or wear waterproof top and trousers, hat and gloves; U9 waterproof top, hat and gloves) you will not be allowed to run without it. You will be checked at the start and at the finish. Anyone found trying to cheat these safety rules will be disqualified and/or prevented from running and the FRA will be informed. Shoes suitable for fell running expected to be worn. This rule will be at the discretion of the race organiser on the day.
Litter:   We have special permission from United Utilities and the local landowners to run the race at this venue. PLEASE be responsible for all your own litter and kit.
Dogs:  Although dogs are allowed around the race route they must be kept on leads at all times.
Results :