Toby and Zack take UK top ten rankings as races resume
20th March 2020
By David Barnes
There has been a welcome return to races in the last couple of weeks with organisers putting the emphasis on safety and the runners relishing the renewal of competition. Toby Middleton was first out of the blocks and put on a fizzing display at the fast Podium 5k race which attracts top runners from across the UK. Toby returned a personal best time of 15:19 which places him as 8th in the UK for under-17 athletes at 5k. Toby also took a lot from this race in terms of pacing and tactics so we can anticipate even more impressive performances in the months to come. Richard Howarth, a marathon specialist, also used the race for some short distance work, always valuable preparation for the longer distances.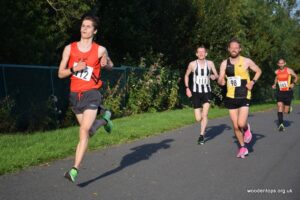 Toby Middleton – great time at Podium 5k – pic by woodentops.org.uk
A recent recruit to the Harriers' junior ranks is Luke Powell. At the re-launched Trafford Open series at the Stretford track Luke won the under-15 800m in a personal best time and his dad Darren was especially pleased with the way Luke managed the race pace, building on the guidance he's had from coach, Martyn Bell at the club's track sessions.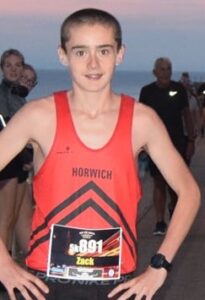 Zack Taylor -top Harrier at Run the Lights – pic by Paul Lewis
Zack Taylor another of the Harriers' keen group of juniors was pushing the senior club members to better times at the Run the Lights races under the Blackpool Illuminations. He achieved a top five finish in the 5k with a field of 231 runners and his time of 16:59 ranks him 3rd in the UK for under-15 athletes.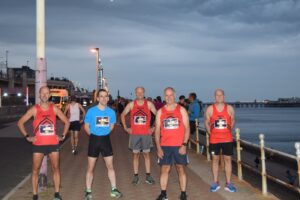 Horwich at Blackpool's Run the Lights – pic by Paul Lewis
In the same race Andrew Storey showed a great return to form with a strong finish with Neil Wilkes and in the 10k Rich O'Reilly showed he is determined to make the most of his training in preparation for the cancelled London Marathon and almost went under the 40 minute barrier for the first time. Geoff Leech and Steve Thomasson turned in creditable performances too, enjoying the support from an appreciative crowd on a Blackpool promenade that looked good under the lights. The staggered start and social distancing worked well so runners will be looking forward to more of the same in the near future.
Podium 5k road race (Barrowford) – 56th Toby Middleton 15:19; 116th Richard Howarth 17:01; Trafford Open Series (Stretford) – 800m: 1st Luke Powell 02:01.35; Run the Lights road races (Blackpool) – 5k: Zack Taylor 16:59; Andrew Storey 24:49; Neil Wilkes 24:49; 10k: Rich O'Reilly 40:45; Steve Thomasson 46:43; Geoff Leech 49:02;