Horwich show they're hot to Trot in annual favourite
5th March 2020
 By David Barnes
THE Trotters 5-mile trail race staged by Burnden Road Runners is a perennial favourite race and as it features in the Harriers' club championships this year there was a bumper turnout of 12 Horwich runners for the event around the Smithills estate.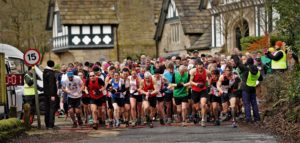 Harriers to the fore at Trotters – photo by Henry Lisowski
It produced a fine set of results for the Harriers too, with Alastair Murray leading the charge and finishing third behind Bury's Andrew Mellor and Jonny Evans. Murray was also first M45 and Marcus Taylor was not far behind to take second M45 place. Close behind, Rob Jackson was first M50, Kimberley Chadderton was second woman, her father-in-law Gary was the first M55, Doug Fleming was second M60 and Tony Hesketh was the second M70 runner.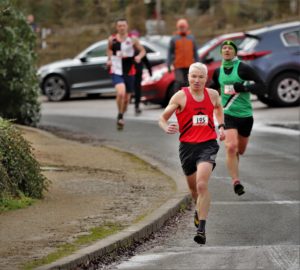 Marcus Taylor – 2nd Harrier at Trotters – photo by Henry Lisowski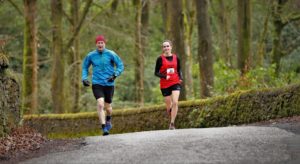 Kimberley Chadderton 2nd at Trotters with dad in law Gary – photo by Henry Lisowski
Several Harriers were doubling up on events at the weekend, including Steve Thomasson who completed the Power of 5k race in Lancaster on Friday and then the Trotters race on Sunday as he aims to resume his European travels in the spring and the Faeroe Island marathon in June.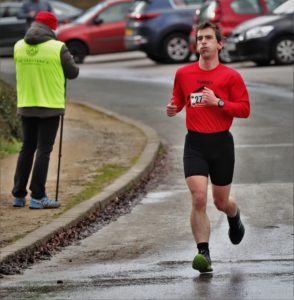 Steve Thomasson races twice – photo by Henry Lisowski
On the road, Richard Howarth took 11th place in the Haweswater half marathon on a panoramic course alongside the lake in the dramatic Cumbrian scenery. Howarth was second M40 and Erica Booth also ran the race, finishing as fourth F40. Also on the road, Geoff Leech took 90th place at the Ron Hill Accrington 10k as he steadily recovers his form.On the fells David Barnes was the lone competitor as he took on the Ilkley Moor fell race, making sure he kept his hat on in strong winds and finishing seventh of the race's large field of 26 M60 runners.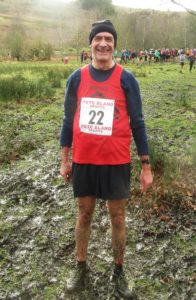 David Barnes at Ilkley Moor – photo courtesy of David Barnes
At parkrun, there were first places for Aidan McKenna at the Peel Park junior parkrun in Little Hulton where he missed out on the course record by just seven seconds and in the senior ranks for Danny Hope at Haigh Woodland and James Scott-Farrington in Keswick.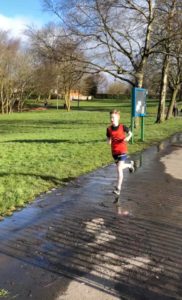 Aidan McKenna 1st at Peel Park – photo by Dan McKenna
Another Chadderton, this time Michael, was second at Stretford parkrun, as was Robert Seddon at Haigh Woodland, finishing within two seconds of Danny Hope's time. Harry Yates was third at the Queens Park junior parkrun.
Results – Power of 5k road race (Lancaster) – 44th Steve Thomasson 20:53. Haweswater half marathon – 11th Richard Howarth 1:18:47; 88th Erica Booth 1:38:21.Trotters 5-mile trail race (Smithills) – 3rd Alastair Murray 30:43; 7th Marcus Taylor 32:04; 11th Rob Jackson 32:34; 24th Kimberley Chadderton 34:31; 40th Gary Chadderton 36:51; 50th Doug Fleming 37:29; 71st Neil Wilkes 40:13; 85th Steven Thomasson 41:11; 95th Tony Hesketh 42:32; 116th Andrew Storey 44:26; 151st Julie Williamson 47:53; 154th David Crawford 48:16. Ilkley Moor fell race – 180th David Barnes 1:03:59.