Horwich RMI Harriers sprint star Sophie brings home indoor silver
27th February 2020
 By David Barnes
ENGLISH 200m champion Sophie Walton brought home a silver medal at the same distance in the England Athletics Indoor Age Group Championships 200m at the National Indoor Athletics Centre in Sheffield. Her coach, Trevor Williams said the talented young sprinter was extremely pleased with her second place as she ran quicker in each round and achieved a season's best in the final, in which Success Edaan of Sale Harriers was just too quick on the day. The result sets Walton – one of Horwich RMI Harriers' brightest young stars – up for more success once the outdoor season gets under way.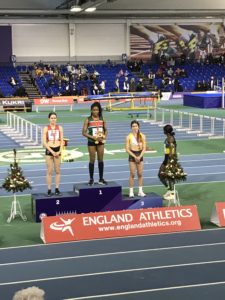 Sophie Walton – England championship silver – photo by Trevor Williams
Also indoors but at SportcCity in Manchester for the latest round of the Sale Harriers Open series, Ola Abidogun's very quick 7.25secs in the 60m brought him second place. Ryan McCaffery took on three disciplines for the first time indoors, competing in the u15 60m, 200m and high jump.
The cross-country season reached its climax with the National Championships taking place in the deer park at Wollaton Hall in Nottingham. A small but enthusiastic squad of Harriers represented Horwich and, though the men could not muster a team to tackle the 12km course. Ian Conroy had top spot for the Harriers.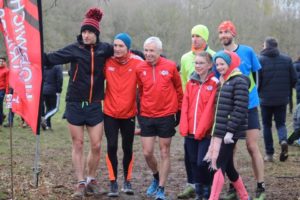 Horwich at national XC – photo by Janette Bradley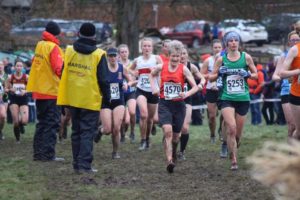 Janet Rashleigh at National XC – photo by Janette Bradley
Janet Rashleigh was Horwich's sole representative in the women's race. She put in a typically strong run but no senior age category prizes are awarded in the national and regional cross country races. Charlotte Wilkinson and Emma Bradley ran the u13 race and Aidan McKenna was Horwich's only boy at the event. In the u17 men's race Toby Middleton and Robert Seddon finished in the top half with half a minute separating them.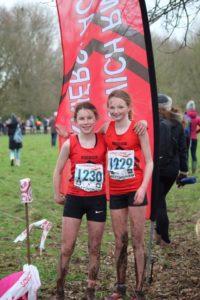 Charlotte Wilkinson & Emma Bradley – National XC – photo by Janette Bradley
The trail race at Standish Hall is renowned for its mud and this week did not disappoint. Izzy Kneale made it a family affair as she competed with her husband Martyn and son Thomas and achieved second of 25 F50 runners. David Barnes also ran and was the first of fourteen M60 runners. But neither could match the performance of Joe Mercer, who had won the Stockport trail half marathon in a field of 417 runners the previous Sunday.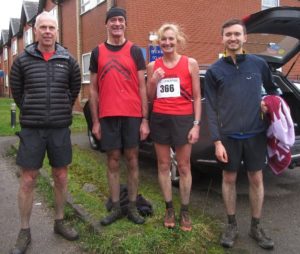 Horwich at Standish Hall trail race – photo courtesy of David Barnes
In the Winter Hill 10k at Walker Fold, Tony Hesketh – who ran the Haigh Woodland parkrun the previous day – is clearly making great progress following injury and he took his customary first-placed M70 position in tough conditions with several inches of water on many of the paths. At the other end of the age range, in the associated one-mile Winter Hill fun run, Harry Yates was the winner.
Lucas Collings was second at the Queens Park junior parkrun where three members of the Parker family –Archie, Evie and Polly – made their first runs on Sunday. Jamie Rockliffe racked up his 121st junior parkrun in the same event.
Results – Stockport Trail half marathon – 1st Joe Mercer 01:14:14; National Cross Country Championships (Nottingham) – Women: 235th Janet Rashleigh 42:36; Men: 255th Ian Conroy 51:02; 487th Alastair Murray 54:28; 533rd Dan Gilbert 55:13; 665th Marcus Taylor 57:19; 886th Chris Essex-Crosby 01:00:34; u-17 men: 95th Toby Middleton 25:48; 131st Robert Seddon 26:22; u-13 girls: 97th Charlotte Wilkinson 17:29; 147th Emma Bradley 18:09; u-13 boys: 312th Aidan McKenna 18:59; Standish Hall trail race – 52nd David Barnes 48:02; 77th Isaline Kneale 51:12; Winter Hill 10k – 29th Tony Hesketh 01:01:36; Winter Hill One Mile fun run – 1st Harry Yates 08:35.