Horwich runners sparkle in ever-popular fell race
20th February 2020
 By David Barnes
THE prospect of Storm Dennis did its best to decimate the race fixtures but a small number of races survived and featured nice performances from Horwich RMI Harriers. Sadly, the South East Lancs cross country race at Yarrow Valley had to be cancelled due to the inundation of water from the previous storm.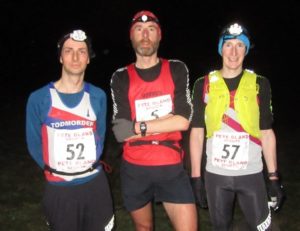 Mr Sparkle's 1-2-3 – photo by David Barnes
On Friday evening at Tockholes, Darwen Dashers hosted the unique Mr Sparkle's Dark 'Un fell race. Organiser Simon Fox said it may be the last running of the race, news which will sadden many runners from near and far. This year Simon set the race off under starry skies and on boggy ground with Horwich's Mark Walsh and Suzanne Budgett helping out on marshalling. There was a fine run from Andrew Worster from Todmorden to win the race with a clear margin of more than three minutes from Horwich's Dan Gilbert in second place. Gilbert had the consolation of the first MV40 prize. Gary Chadderton also had a good race and was second MV50 despite a tumble on the final descent.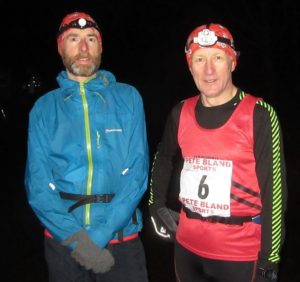 Dan Gilbert & Gary Chadderton at Mr Sparkle's – photo by David Barnes
On Saturday the organisers of the Bleasdale Circle race, on the edge of Bowland, bravely went ahead with the race over a shortened route out and again it was a Horwich RMI Harrier, Danny Hope, that took second place and the MV40 prize. He was within 15 seconds of winner Sam Harrison from Bowland.
Sunday saw the 50th running of the Parbold Hill race, which sells out each year. On this occasion, for the first time in some years, Horwich achieved a team result with the friendly squad of what used to be the beginners group taking 24th place. Paul Lewis led the men's quartet home with Neil Wilkes, Tony Varley and Andrew Storey in close order. Tony Varley was second M70, a tribute to his careful training and race regime since, a couple of years ago, he was looking at knee replacements but great physio since and wise choices have rejuvenated his running career. Julie Williamson and Jeanette Lewis also competed well and would have enjoyed a decent women's team result if there had been two more women joining them.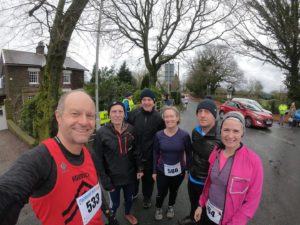 Horwich at Parbold – photo by Andrew Storey
On Sunday, Williamson also took on the Great North West half marathon at a windy Blackpool where Geoff Leech was on pacing duties and achieved an almost perfect time of two hours to assist other runners not used to running the distance. But it was Richard O'Reilly who was top Horwich runner and achieved a new personal best for the distance.
Parkrunners are also stoic characters and on Saturday Robert Seddon claimed his fourth venue scalp with first place at South Manchester in a cracking time of 17:16. Even faster though was James Scott-Farrington at Newcastle Parkrun, where he was first in a time of 15:44. This was the sixth parkrun venue where he has achieved a first place. Glyn Kay failed to get his fifth successive fourth place at different venues but went one better in finishing third at Chadderton Hall.
Results – Mr Sparkle's Dark 'Un fell race (Tockholes) – 2nd Dan Gilbert 36:19; 16th Gary Chadderton 42:21; Parbold Hill race – 146th Paul Lewis 01:04:21; 147th Neil Wilkes 01:04:27; 265th Tony Varley 01:14:36; 278th Andrew Storey 01:15:52; 301st Julie Williamson 01:18:51; 390th Jeanette Lewis 01:33:26; Bleasdale Circle fell race (Bowland) – 2nd Danny Hope 32:31; Great Northwest half marathon (Blackpool) – 162nd Richard O'Reilly 01:42:20; 491st Geoff Leech 02:00:14; 649th Julie Williamson 02:09:59.