Horwich youngsters do their bit for Bolton
7th February 2020
 By David Barnes
IT is always a proud moment in an athlete's career to achieve representative honours and several of the Harriers' juniors did just that in the Greater Manchester Cross Country Championships at Heaton Park. Several Horwich runners were selected for the Bolton team and the primary girls' team took bronze with Georgia Clarkson and Isobelle Wilkinson featuring. Toby Middleton was sixth in the Inter Boys race and duly earned a county XC vest to add to his impressive set of representative honours.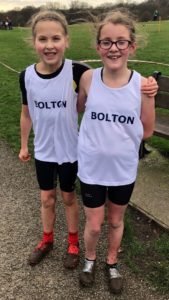 Georgia Clarkson & Isobelle Wilkinson at GMXC – photo by Gemma Stokes
Also on the cross country scene, in the Northern Masters Championship at Cleckheaton in West Yorkshire, Rob Jackson was fourth overall and won the V50 gold medal on the 8km route that offered everything you'd want from a cross country course. Jackson made it a double success by finishing as first M50 at the Manchester Winter Warmer 10k in Heaton Park the following day.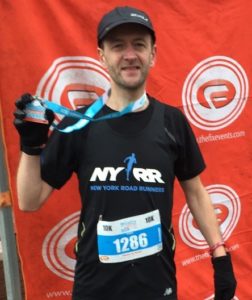 Rob Jackson – double medalist – photo courtesy of Rob Jackson
On a very wild and windy Saturday two Harriers took on very different fell races. Nick Kelly had an excellent return to fell racing at the Wadsworth Trog which takes runners across more than 19 miles of rain-soaked moorland and he completed the course in 3.21.43, placing him fifth of 39 runners in the M50 age category. In the Lake District the fourth round of the Kong Mountain series at Stybarrow Dodd saw the race shortened to reduce the exposure of runners and marshals to the worst of the fierce icy winds on the tops. David Barnes struggled with the terrain on the steep descent and trailed in in 59.54.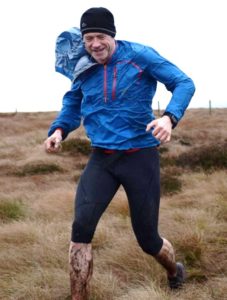 Nick Kelly at Wadsworth Trog – photo by woodentops.org.uk
Sunday fell running saw Mark Seddon take on the Kong Mini Mountain Marathon in north Wales, a testing orienteering event in which he was fourth M50. Dan Gilbert was third M40 at the Mickleden Straddle in the Peak District and Graham Schofield visited the Yorkshire Dales to take the M60 first prize in the Runners and Riders fell race where this year a cyclist won despite the soaked ground conditions.
At the Northern Indoor Championships in Sheffield a fine performance won Alistair Sharrock silver in the 60m sprint in a personal best and club record time of 8.26. He also had a personal best in the long jump to take sixth place. Pip Nuttall also showed her all-round ability in the 60m hurdles and long jump.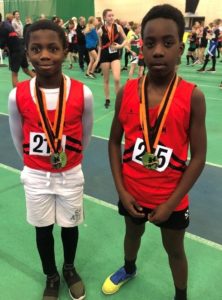 Chidera Ajet & Joel Ige winners at Sportshall – photo by Gemma Stokes
Gemma Stokes took a big, enthusiastic squad to the County Sportshall Open at SportCity and another successful day ended with both the under-11 girls and boys gaining third place. Chidera Ajet took wins in the one-lap sprint and vertical jump and second place in the standing long jump, while Joel Ige won the standing long jump and was second in the vertical jump and third in the sprint.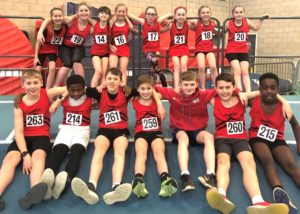 Horwich at Sportshall – photo by Gemma Stokes
In parkrun, Robert Seddon gained his fourth first place, this time at Bolton. Glyn Kay notched up his third fourth place in three weeks at Oldham, after running in Hyndburn and Ormskirk previously. Chris Essex-Crosby was also fourth, at Haigh Woodland. Further afield, Marty Arnot-Smith made his debut at Ashgrove parkrun in Brisbane, Queensland where he was fourth u15 and achieved his best time in a 5k parkrun.
Results: Northern Masters XC championships (Cleckheaton) – 4th Rob Jackson 34:45, Wadsworth Trog fell race (Hebden Bridge) – 39th Nick Kelly 03:21:43, Stybarrow Dodd fell race (Thirlmere) – 153rd David Barnes 59:54; Manchester Winter Warmer 10k (Heaton Park) – 3rd Rob Jackson 38:39; Kong Mini Mountain Marathon – 24th Mark Seddon 03:44:27; Mickleden Straddle fell race – 9th Dan Gilbert 01:55:48; Runners and Riders fell race (Appletreewick) – 54th Graham Schofield 40:10.