Horwich RMI Harriers show they are Northern stars
30th January 2020
By David Barnes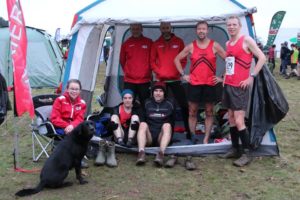 Horwich at Northern XC – photo by Victoria Wilkinson
Horwich took a small squad of seniors and juniors to the magnificent grounds of the Camp Hill estate at Bedale in North Yorkshire for the annual Northern Athletics cross country championships which attracts big fields of runners and clubs seeking honours. This year northwest clubs featured strongly. In the women's race the in-form duo of Rowen Pymm and Janet Rashleigh were in close contention throughout the race with the top 100 finishing within 5 minutes of each other. In the men's race Horwich were one short of having a team which with the results of the five taking part would have given a solid mid position result for the club. Ian Conroy was the top Harrier in the men's race with Alastair Murray also having a strong race.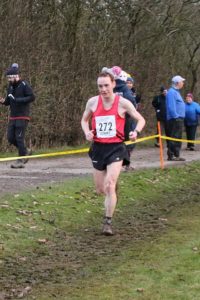 Ian Conroy at Northern XC – photo by Victoria Wilkinson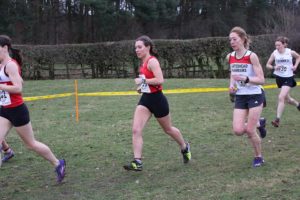 Rowen Pymm at Northern XC – photo by Victoria Wilkinson
In the younger ranks, the best result was from Charlotte Wilkinson who returned from the ski slopes to take on the typically muddy course with a strong run in the under-13 race where she was joined by Emma Bradley and 208 other runners. With both of them looking forward to the forthcoming fell season, the cross country events are great for winter strength training as well as the club camaraderie that these events provide. Isaac Battye and Benjamin Hall are two more Harriers in good form and both had competitive runs in the under-15 race. Robert Seddon in the under-17 men's race had the highest finish of any Harrier only just over a minute behind the winner.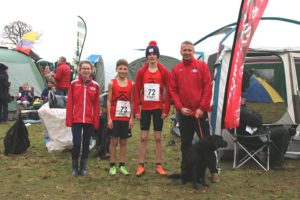 Horwich juniors & club chairman at Northern XC – photo by Victoria Wilkinson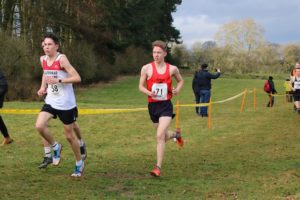 Robert Seddon at Northern XC – photo by Victoria Wilkinson
Elsewhere it has been a relatively quiet week. At the latest Sale Harriers Open Series indoors at Sportcity, Ola Abidogun, Niall Maloney, Isaac Parker and Nathan Hargraves all turned in respectable results as they also use the winter events in preparation for a busy spring and summer of events. On the road there was only Geoff Leech, returning to some form at one of his favourite coastal races in a brisk wind at St Annes. David Barnes was the only Harrier making an appearance on the fells, this time above Sheffield at Dore for the splendidly boggy Tigger Tor race.
In parkrun it was great to see one of the club's former national fell champions Paul Murray return to the event at Levengrove after a gap of six years in the under-80 age category. Tony Hesketh has also returned after a much shorter break at Heaton Park in the under-75 category but the feature results this week were from two of the Harriers' under-18 athletes with Matthew Mair at Bolton getting his first ever 1st place in a parkrun and Luke Brindle 3rd at Worsley Woods in a sparkling time of 17:54.
Results – Northern Cross Country Championships (Bedale) – u-13 girls: 32nd Charlotte Wilkinson 10:56; 131st Emma Bradley 12:04; u-13 boys: 39th Isaac Battye 14:41; 98th Benjamin Hall 15:27; u-17 men: 21st Robert Seddon 20:54; Women: 83rd Rowen Pymm 35:25; 87th Janet Rashleigh 35:47; Men: 118th Ian Conroy 49:10; 160th Alastair Murray 50:52; 208th Dan Gilbert 52:34; 480th Richard O'Reilly 01:04:21; 484th Mark Seddon 01:04:29; Sale Harriers Open Series (Sportcity) – 60m: 4th Ola Abidogun 7.29; Long jump: Niall Maloney 5.82m; 200m heats: 3rd Isaac Parker 23.98; 1st Nathan Hargraves 24.28; St Annes 10 mile road race – 125th Geoff Leech 01:20:54; Tigger Tor fell race (Dore) – 157th David Barnes 01:45:33