Stunning victories for Grace and Isaac
23rd January 2020
 By David Barnes
THERE was a third visit to Heaton Park for the South East Lancs Cross-Country League this season and a fine day and good conditions brought out the best in Horwich RMI Harriers' juniors with wins for Grace Mort and Isaac Battye. Grace achieved her first-ever first place in cross-country in the under-11 girls' race, having started out in the Red Rose League in the autumn and steadily improved. Her confident run ended with victory in a close finish, with fellow Harrier Charlotte Vickers in fifth place only 13 seconds behind. Isaac Battye at u15 also had a very good Red Rose series and at Heaton Park was almost a minute ahead of second. Emma Bradley was the fourth Harrier junior appearing at Heaton Park and in typically consistent style finished third in the u13 girls' race.
It was a mixed bag for the senior men at the same venue as a team of enthusiastic vets represented the club in the senior competition, finishing 17th of 17 teams but, as ever, they enjoyed the race. Steve Williams had yet another M65 category win and this time it was clubmate Richard O'Reilly in improving form who did well to keep him in sight. David Barnes was third M60 and club champion Lawrence Pinnell was welcomed in at the finish to give the quartet fourth place in the over-50 vets competition.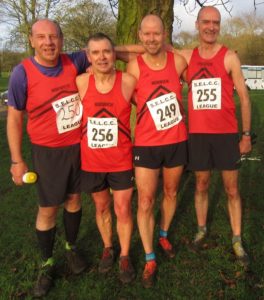 Horwich vets at Heaton Park – photo courtesy of Kath Williams
Witton Park in Blackburn is another regular cross-country venue and this week it was the location for the Lancashire Schools Championships and several of the Harriers' juniors helped Chorley Schools to team success across the age categories. Zac Taylor, Harrison Stokes and Josh Topham were part of winning teams and Milly Lever and Ben Hall were in second-placed teams.
Several of Horwich's road racers have emerged from a winter break. Jonathan Jenkins had a great first race in Horwich's red and black in finishing 13th at the Mast 10k race up to Winter Hill. A little further afield, David and Bernadette Unsworth both had fine runs in the Inskip half marathon and both achieved fifth places in their age categories. Isaline Kneale went one better with fourth of 36 F50 runners at the East Lancs Hospice 10k race after a third female placing in the Bolton parkrun the previous day.
In parkrun there was an outstanding result for Robert Seddon at Heaton Park where he was second in a huge parkrun field of 1,112 runners. At Pennington Flash, Lucas Collings paced his father Ian into 12th place and in doing so was the first junior finisher.
Fern O'Brien is also a very keen junior and is well rewarded with a nomination for the Bolton Health and Wellbeing Awards which will be presented in September, the time of Fern's 10th birthday. Her nomination is in recognition of the fundraising she does in running for charity and her general enthusiasm for the sport.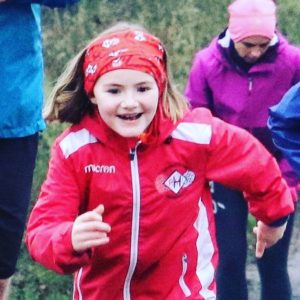 Fern O'Brien – awards nomination – photo by Bob O'Brien
Results: South East Lancs XC League (Heaton Park) – 70th Steve Williams 45:40, 80th Richard O'Reilly 46:20, 89th David Barnes 47:16, 135th Lawrence Pinnell 55:40. Inskip half marathon road race (Preston) – 75th David Unsworth 01:34:43, 174th Bernadette Unsworth 01:56:49. Mast 10k Winter race (Horwich) – 13th Jonathan Jenkins 47:38. East Lancs Hospice 10k road race (Great Harwood) – 100th Isaline Kneale 49:40.