Every second counts as Harriers hit the heights
16th January    

By David Barnes
THERE were several fine performances from the Harriers over the weekend, not least three fine second places in a range of race disciplines. Michael Cayton starred in cross country, Julian Goudge in night running and Sophie Walton in indoor sprinting. At a new venue, Tatton Park, for the Manchester Area Cross Country League Cayton, a fine athlete to come through Horwich's ranks in recent years made a welcome re-appearance in the Harriers' vest and duly relished the fast course to take second place, eight seconds behind Stockport's Jack Morris. He led the men's senior team to sixth place consolidating their place in the top division.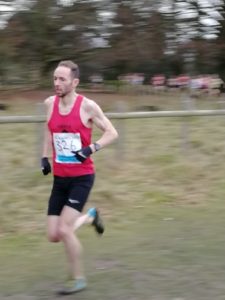 Michael Cayton – 2nd at Tatton Park – photo by Peter Ramsdale
The vets team, promoted from Division Two, were led home by James Titmuss and took fifth which should keep them third in the series with one race to go. There were also two stand-out performances from Horwich women at Tatton Park. In a field of 328 women, Rowen Pymm was 22nd and Janet Rashleigh 30th and both hold top-20 places. Rashleigh also secured the L55 title with first in her category for the fourth time this season. In the under-17 men's race Robert Seddon finished sixth.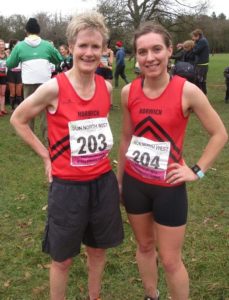 Janet Rashleigh & Rowen Pymm at Tatton XC – photo by David Barnes
On Saturday evening, in wet and blustery conditions, Goudge had another great Night Runner race to take a clear second place. Simon Vaughan was the second Harrier to finish, only three seconds off beating his time last year. Richard O'Reilly also took on the Night Runner race, having competed in the cross-country race that afternoon and the Cuerden Valley parkrun in the morning.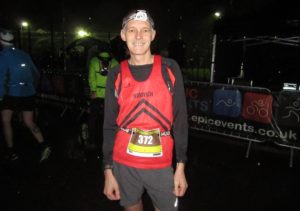 Julian Goudge 2nd at Petzl nightrunner – photo by David Barnes
The Northern Championships took place this weekend in Sheffield and Horwich had four athletes competing in the first major indoor competition of 2020. Both U17 women Sophie Walton and Isabella Merritt were coming back from injuries and illness yet still performed excellently. Merritt ran a good first 200m in the 300m heats but faded in the home straight. Walton, as reigning 60m champion, won her heats comfortably but again a lack of fitness told and she finished an excellent second in 7.68 and she was still happy with her silver.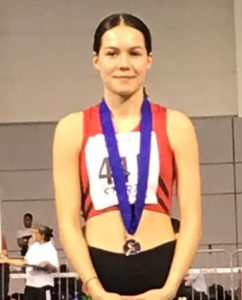 Sophie Walton medals at Northerns – photo by Trevor Williams
The two U20 men had a superb day in the 400m. Nathan Hargreaves knew it was almost an impossible task to get to the final but he got the PB he was after, running 53.54, while the performance of the day went to Isaac Parker. He was ranked seventh before the race but a PB in the heat and then beating that in the final with 50.59 gave him a well-deserved third place. Niall Maloney narrowly missed out on the medals in the long jump, finishing in fourth place with a best jump of 6.41m, a very promising start to the 2020 season.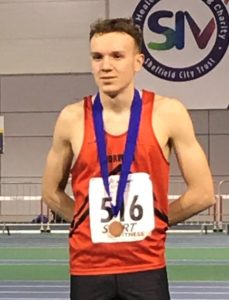 Isaac Parker medals at Northerns – photo by Trevor Williams
The only road race result this week was a fine personal best from Emma Collings in the Garstang 10k. In parkrun there was another second place for a Harrier, at Haigh Woodland for Glyn Kay. Alistair Thornton was first at Dishley parkrun and Marcus Taylor was third at Bognor Regis.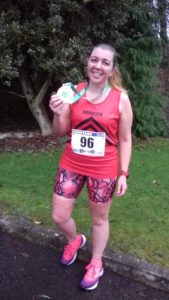 Emma Collings – PB at Garstang – photo courtesy of Emma Collings
Results – Manchester Area XC (Tatton Park) – u-17 men: 6th Robert Seddon 19:56; Senior Women: 22nd Rowen Pymm 35:06; 30th Janet Rashleigh 35:52; Senior Men: 2nd Michael Cayton 31:29; 14th Joe Mercer 33:28; 54th James Titmuss 35:49; 56th Alastair Murray 35:52; 73rd Dan Gilbert 36:32; 333rd David Barnes 45:10; 339th Richard O'Reilly 45:24; 358th Mark Seddon 46:20; Ashurst Beacon fell race (Skelmersdale) – 68th Alan Ashley 54:02; 75th Isaline Kneale 55:18; Petzl Night Runner race (Rivington) – 2nd Julian Goudge 48:43; 34th Simon Vaughan 59:24; 77th Nick White 01:04:55; 98th Richard O'Reilly 01:07:34; 138th Sam Kavanagh 01:11:34; Garstang 10k road race – 234th Emma Collings 53:45.