Horwich Harriers vets to the fore as Janet excels in Witton Park run
9th January 2020
By David Barnes
THE early new year has little opportunity for the juniors on the competitive scene so it gives some of the club's vets the chance to steal the show. Several Harriers have done just that, not least Janet Rashleigh, who continues to have a cracking cross-country season and on Saturday took 12th place in the Lancashire XC championships at Witton Park in Blackburn, a performance that gave her first place in the F55 category. In the same championships, Mark Walsh (M50) and Graham Schofield (M60) took second and third places in their respective categories. Walsh had also taken second M50 place at the Auld Lang Syne fell race in the Brontë country of Haworth, where the new year weather wasn't too wuthering. He is in very good form and currently has his highest RunBritain ranking since 2012.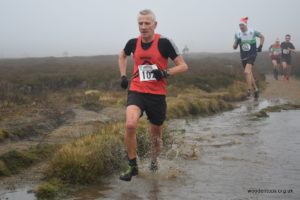 Mark Walsh at Auld Lang Syne – photo by woodentops.org.uk
Graham Schofield is also compiling a series of good results, no doubt building to defending his Kendal Winter League title at M60. He was first M60 at John Schofield's New Year's Awakener race where yet another Harrier vet, Rob Jackson, was third overall and first M50 and was pleased to receive his award from two of the stalwarts of the north-west race scene, John Schofield and Andy O'Sullivan.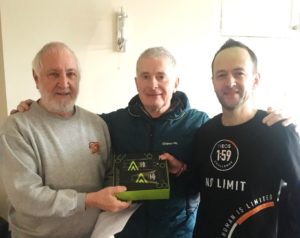 John Schofield, Andy O'Sullivan and Rob Jackson – photo courtesy of Rob Jackson
Richard O'Reilly is a recent recruit to the Harriers' ranks and is another vet building a strong race and training schedule as he prepares for the London Marathon in April. This weekend he ran the multi-terrain half marathon on the Wirral Way, having endured the cross-country race in the same vicinity before Christmas. O'Reilly admits the cross-country races may be gruelling but are great for strength and he was satisfied in finishing the half marathon strongly.
On the track indoors at SportCity, Ola Abidogun had a win at 60m, auguring well for him to excel again in 2020 after his fine world championship performance in the autumn. Niall Maloney was third in the long jump, showing consistent form in the technically demanding field event.
In parkrun, there were two first places, for Phil Marsden at The Pastures in Northumberland and for Isaac Battye in the Queens Park junior parkrun where Ethan Isaacs also had a personal best in contesting the first place with Battye. Alistair Thornton was second at the Rushcliffe event near Nottingham and Emma Bradley was first female at Haigh Woodland.
Results – Auld Lang Syne fell race (Haworth) – 36th Mark Walsh 50:48; 330th Jason Middleton 01:21:55; John Schofield New Year's Day Awakener (Whitworth) – 3rd Rob Jackson 20:33; 14th Graham Schofield 22:46; Lancashire Cross Country Championships (Blackburn) – Women: 12th Janet Rashleigh 28:04; Men: 38th James Titmuss 37:42; 60th Mark Walsh 39:58; 97th Graham Schofield 43:38; Central Lancs half marathon (Preston) – 72nd David Unsworth 01:37:58; 271st Bernadette Unsworth 02:06:26; 363rd Emma Renshaw 02:19:20; 377th Kristina Mountain 02:23:07; Sale Open Series (SportCity) – 60m 1st Ola Abidogun 7.23 secs; Long Jump 3rd Niall Maloney 6.15m; Wirral Way Winter half marathon – 71st Richard O'Reilly 01:44:29.