Glee for Leigh as he takes top spot in the Santa Dash
1st January 2020
By David Barnes
Christmas brings out the cheer in many runners and Nick Leigh started off the festive season with an impressive win at Mad Bull's local Santa Dash race, finishing over 5 minutes ahead of 2nd placed Marcus Taylor. They both won their age categories, feats that were repeated by Rob Jackson and Graham Schofield at Cowm reservoir near Whitworth where runners were pleased to see Andy O'Sullivan resuming the organisation of the popular series of races.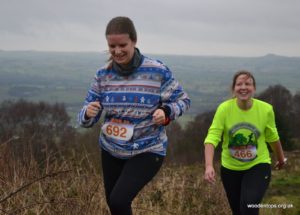 Angela Kmiec at Chevin Chase – photo by woodentops.org.uk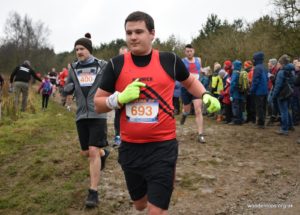 Mark Kmiec at Chevin Case – photo by woodentops.org.uk
Across the Pennines, Angela and Mark Kmiec also enjoyed the festive fun at the 7-mile Chevin Chase race where they joined friends in the field of over 1000 runners, some in fancy dress, with others sticking to the usual running gear. Chorley A&TC with Epic Events put on the Astley Festive Four to raise funds for the Chorley Food Bank and runners could feel extra virtuous in running off the xmas pudd and taking part for a very good cause. David Barnes was 1st MV60 and Mary White was 3rd FV60.
But it was with serious performance intent that most runners took on the Ribble Valley 10k road race as it incorporated the North of England Road Championships. Richard Howarth was the top Harrier, taking 2nd prize in the M45 category.
In parkrun there were 1st places over the Christmas period for five Harriers. Dan Gilbert was first at Bolton and Joe Mercer was first at Marple just before Christmas. Just after Christmas, Toby Middleton was 1st at Hasenheide in Berlin which was the second time in 2019 that Toby has finished first at an international parkrun having done the same thing at Whistler in Canada in August.  Nearer home, Nick Leigh was 1st at Lincoln and Emma Bradley was 1st female for a third time at Tawd Valley in Skelmersdale.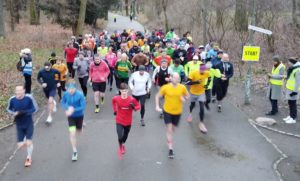 Toby Middleton – 1st at Berlin parkrun – photo by Theo Middleton
For the club, it wouldn't be Christmas without another great event organised by Tony Hesketh; in this case the Prediction race from Rivington Tea rooms, an event that cleverly combines fun and competitiveness in getting participants to predict their time over the chosen course; the winners are those that finish closest to their prediction and this year for the seniors it was Ian Collings who beat Neil Wilkes by only two seconds. The juniors were a little less accurate in their prediction or they had more fun! Harrison Stokes beat Aidan McKenna by 13 seconds and then it was back to the tea rooms for festive prizes all round.
Horwich RMI Harriers results: Santa Dash 4-mile trail race (Horwich) – 1st Nick Leigh 22:42; 2nd Marcus Taylor 28:10; Ian Holloway Cowm 5k multi-terrain race – 15th Rob Jackson 18:30; 32nd Graham Schofield 20:33; Chevin Chase multi-terrain race (Guiseley) – 433rd Mark Kmiec 01:00:41; 1146th Angela Kmiec 01:37:26; Ribble Valley 10k road race (Clitheroe) – 118th Richard Howarth 34:45; 127th James Titmuss 35:03; 193rd Marcus Taylor 37:18; 562nd Alan Ashley 47:24; Astley Festive Four multi-terrain race (Chorley) – 23rd David Barnes 32:11; 76th Mary White 38:37;