Members cook up age-category wins at Turkey Trot
19th December 2019
By David Barnes
THE Christmas season always brings out the festive fancy dress and athletes were again in the spirit at the ever-popular Hurst Green Turkey Trot near Clitheroe. There were several age-category wins for the Harriers with Mark Walsh the first M50, Steve Williams first M65 and Tony Hesketh first M70. Ian and Emma Collings entered into the festive spirit completely but unfortunately got up late and had to run in their pjs and curlers! Also on the road the previous week, Richard Howarth had a good third-place finish at the Myerscough 10-mile road race, losing out on the M45 prize by nine seconds.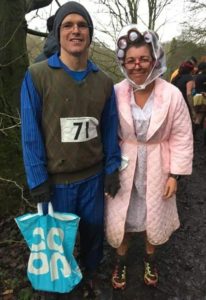 Ian and Emma Collings got up late for the Turkey Trot – photo by Alec Cottrill
It was chilly and boggy at the classic Boggart Hole Clough course for the Greater Manchester Cross Country Championships on Saturday. James Scott-Farrington, in his first ever run on this course, had a fine race to take second place and earn an automatic selection for the county team in the inter-county championships in 2020. Finishing in the top 12, Nick Leigh in sixth will await a discretionary call-up for a county vest, as will Janet Rashleigh who had another great run in 12th place in the women's race.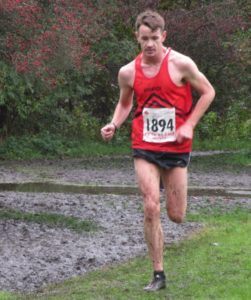 James Scott-Farrington earlier in XC season – photo by David Barnes
Charlotte Wilkinson will also be hoping for a county call-up after finishing fifth in the under-13 girls' race where the top five crossed the line within 16 seconds of each other. Robert Seddon, Luke Brindle, Benjamin Hall and Emma Bradley all tackled the tough conditions with aplomb, but David Barnes ran out of steam in the senior men's race.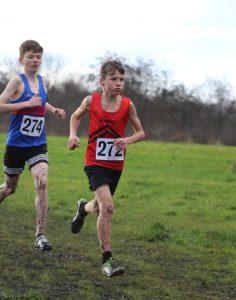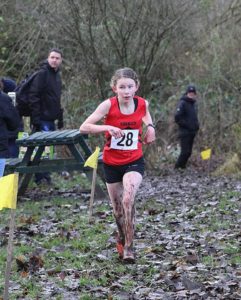 Benjamin Hall and Charlotte Wilkinson – top junior Harriers at GMXC – photos by Victoria Wilkinson
Indoors, it was the second event of the City of Manchester Open Series at SportCity, organised by Sale Harriers Manchester. There were third places for Harriers Isaac Parker, in the 300m, and Pip Nuttall, in the 60m hurdles.
In parkrun, Rowen Pymm was second at Stamford Park in Stalybridge in a personal best of 20mins 58secs, while Maria Lowe was third female at Stretford. Lawrence Pinnell, the Harriers' overall club champion in 2018/19, completed his 100th parkrun at Haigh Woodland and he has also done 50 volunteer duties for parkrun, demonstrating his great support for grassroots running.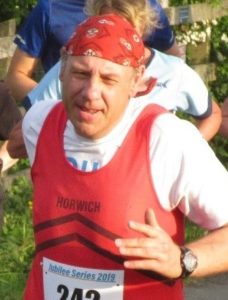 Lawrence Pinnell – 100 parkruns 50 vol duties – photos by David Barnes
Horwich RMI Harriers results: Myerscough 10-mile road race – 3rd Richard Howarth 56:17; Hurst Green Turkey Trot road race – 14th Mark Walsh 35:44, 30th Ian Collings 40:19, 33rd Steve Williams 41:06, 75th Tony Hesketh 45:32, 141st Emma Collings 56:58; Greater Manchester Cross Country Championships (Boggart Hole Clough) – Women: 12th Janet Rashleigh 32:54; Men: 2nd James Scott-Farrington 38:39, 6th Nick Leigh 40:17, 63rd David Barnes 54:52; U17 men: 6th Robert Seddon 22:19, 11th Luke Brindle 23:09; U15 boys: 10th Benjamin Hall 13:18; U13 girls: 5th Charlotte Wilkinson 11:49, 17th Emma Bradley 13:04.