Janet shines as athletes venture to the Wirral
12th December 2019
By David Barnes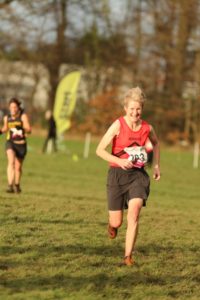 Janet Rashleigh at Arrowe Park XC – photo by Jon-Paul Kearns
HORWICH Harrier Janet Rashleigh produced a great result at the Manchester Area Cross Country League to finish 13th overall in a strong field of 179 women. At a new venue at Arrowe Park Country Park in the Wirral the unfamiliar course was a test for all ages but Rashleigh also claimed victory in the L55 category and beat the first runners in the L35, L40 and L50 categories. Ethan Isaacs represented the club at under-15s, while in the men's race the club were looking to consolidate a strong start to the league in the previous two fixtures.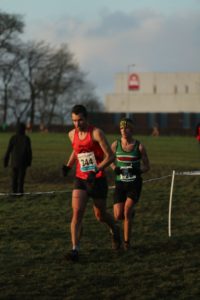 Alastair Murray at Arrowe Park XC – photo by Jon-Paul Kearns
However, with seasonal absences it was always going to be a tough call and so the result of eighth out of 37 teams was an excellent return with Ian Conroy in 16th place leading the team home. The vets 'A' team were defending a top league position but again did well to finish fifth with James Titmuss top scoring and the 'B' team also got into the top 25. David Barnes celebrated his 75th race of 2019 by finishing second in the M60 category.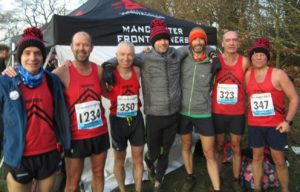 Horwich at Arrowe Park XC – photo courtesy of David Barnes
Elsewhere, the club's junior coaches, Gemma Stokes and Dan McKenna, took a large squad to the third round of the Greater Manchester Sportshall League. There was a big presence of the Harriers at u11s and u13s levels and while the main aim is fun and learning athletic disciplines, McKenna was pleased the youngsters all tried hard and put maximum effort in. The teams are also great at supporting each other, not least as Ryan McCaffery put in his two-lap stint after making his debut the previous day at senior parkrun, choosing one of the toughest at Cuerden Valley.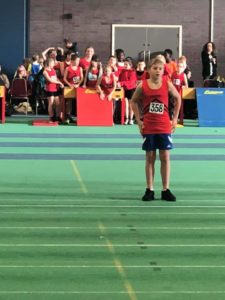 Horwich team spirit for Ryan at Sportshall – photo by Dan McKenna
In parkrun, Maria Lowe was first out of 196 women at the fast Stretford parkrun, while Michael Chadderton set a new personal best in finishing second at Haigh Woodland.
Horwich RMI Harriers results: Manchester Area Cross Country League (Arrowe Park, Wirral) – Women: 13th Janet Rashleigh 40:33; Men: 16th Ian Conroy 43:00, 39th James Titmuss 45:03, 44th Dan Gilbert 45:37, 54th Alastair Murray 46:29, 95th Marcus Taylor 49:09, 132nd Colin Rigby 51:32, 181st David Barnes 54:44, 209th Richard O'Reilly 56:42, 254th Lawrence Pinnell 1:01:52; Tatton Yule Yomp 10k road race – 367th Paul Wilcockson 58:56.