Star Charlotte retains her under-13s crown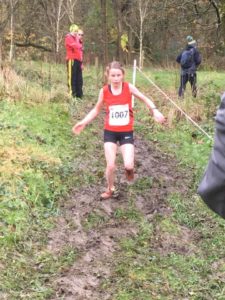 Charlotte Wilkinson winning at Todmorden – photo by Janette Bradley
HORWICH youngster Charlotte Wilkinson secured the under-13 girls' championship for 2019 at the Red Rose Cross Country League fixture at Todmorden Having already won at Leigh and Bolton, she triumphed in the race at the weekend as well, supported by Emma Bradley and Imogen Andreassen to give the team second place. A second win for Harriers saw the team of Toby Middleton, Luke Brindle and Robert Seddon win in the u17s' race. There was also a full men's team for Horwich at Todmorden who earned a creditable seventh place out of 14 teams as James Titmuss and Mark Walsh featured strongly. Steve Williams and Tony Hesketh each won their age categories and Doug Fleming was second in his.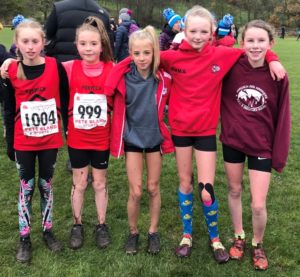 under-13 girls at Red Rose XC – photo by Glynne Lever
The Manchester League achieved a participation of more than 1,300 competitors across all age groups and got off to a good start for Harriers as the three women involved put in fine performances. If they had had a fourth team member they would have been in with a great chance of a top-10 team place. As it was, the trio were led home by Rowen Pymm – three places ahead of Janet Rashleigh, who was a clear winner of the F55 category, and Kimberley Chadderton, who was closing in so all three finished within 33 seconds of each other.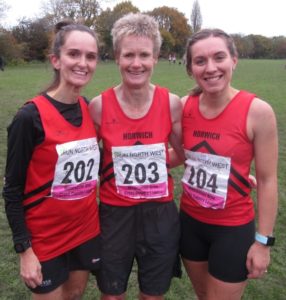 Horwich ladies at MACC – photo by David Barnes
Then there were 14 Harriers in the men's race with the A team defending fourth place after the first race last month. The A team duly finished fifth out of 70 teams, thus remaining fourth out of 10 in the top flight after two races with two more to go. James Kevan, Phil Marsden and Joe Mercer all had top-25 places in a field of more than 500 men. The B team was 23rd and the Vets team, led by Nick Leigh, took second place on the day which was enough to take the team to top spot as Salford dropped two places behind.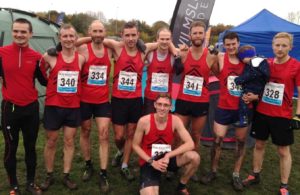 Horwich men at MACC – photo by Suzanne Budgett
On the road at Lytham eight Harriers ran in the Windmill Remembrance 10k including Richard O'Reilly, who recovered well from the cross country the day before to compete again. At Whitworth, a great friend of running in the North West, Andy O'Sullivan, was honoured with a big turnout for the 5k multi-terrain race around Cowm reservoir – one of many races he has organised for many years, raising thousands for charity. Horwich's Rob Jackson was the first M50 runner home, pipping his age-category rival, Danny Bennett, of Rochdale, by one second in finishing 13th overall.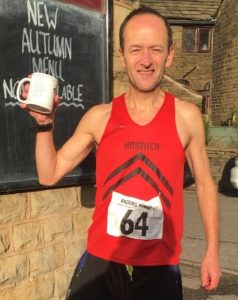 Rob Jackson M50 winner at Cowm – photo by Ian Dale
With so much other activity for the Harriers it was a quiet week in parkrun. At the hilly Witton course in Blackburn, Graham Schofield, the veteran fell specialist, made a rare parkrun appearance in seventh place and in the Queens Park junior parkrun, Aidan McKenna and Aleksander Clayden were third and fourth.
Horwich RMI Harriers results: Red Rose Cross Country (Todmorden) – Ladies: 82nd Emma Collings 35:36; Men: 17th James Titmuss 40:02, 43rd Mark Walsh 44:06, 70th Chris Essex-Crosby 47:13, 73rd Ian Collings 47:41, 103rd Stephen Williams 50:33, 108th Doug Fleming 50:54, 116th Mark Seddon 52:22, 124th Richard O'Reilly 53:20, 126th Tony Hesketh 53:55; Manchester Area Cross Country (University of Manchester playing fields) – Women: 27th Rowen Pymm 29:29, 30th Janet Rashleigh 29:43, 41st Kimberley Chadderton 30:02; Men: 12th James Kevan 33:16, 18th Phil Marsden 33:35, 25th Joe Mercer 33:59, 43rd Nick Leigh 35:34, 71st Alastair Murray 36:45, 74th Michael Chadderton 36:54, 84th Alex Fowler 37:16, 90th Dan Gilbert 37:28, 94th Andrew Lloyd 37:31, 148th Marcus Taylor 39:21, 171st David Purnell 39:53, 326th Gary Chadderton 44:36, 339th David Barnes 44:55, 446th Lawrence Pinnell 50:27; Windmill Remembrance 10k road race (Lytham) – 239th Richard O'Reilly 46:25, 365th Neil Wilkes 49:31, 520th Carl Leech 52:22, 633rd Julie Williamson 54:20, 744th Geoff Leech 56:02, 940th David Crawford 59:28, 1,797th Lesley Davidson 1:18:03, 1,798th Lynn Smith 1:18:04; Andy O'Sullivan MBE 5k Cowm race – 13th Rob Jackson 18:19.