Abidogun celebrates final berth in Dubai
21st November 2019
By David Barnes
HORWICH'S top international athlete, Ola Abidogun has just returned from a successful World Para Athletics Championships in Dubai where he reached the final of the T47 100m. Abidogun won silver in the London Paralympics in 2012 but this was his first British team appearance since 2014 and he got to the final with a new personal best of 10.92secs. He said: "It's taken me seven years to get below 11 seconds and I've finally done it, but I know I can go faster, I can feel it." In the final, he had another sub-11 second race and was sixth out of eight with Brazil taking all three medals. He also ran for Britain in the universal 4x100m where the team finished second in the heat but only the four heat winners went through to the final.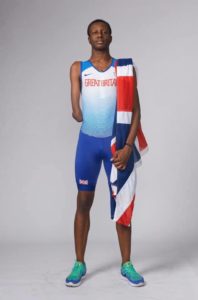 Ola Abidogun – world champs finalist – photo courtesy of British Athletics
Abidogun's performances are a constant inspiration for the Harriers and last weekend Rob Jackson, a great aficionado of world athletics with a fine career record, continued to shine. He took the silver medal for the M50 age category in the 5k road race at the Northern Masters Championships at the Brownlee Centre in Leeds. Then, the next day, he went to Heaton Park for the Manchester MoRun 10k race which he has previously won in 2015 and 2016. He did it again, even though he could feel the effect of the previous day's race in his legs, to regain the MoRun title for 2019.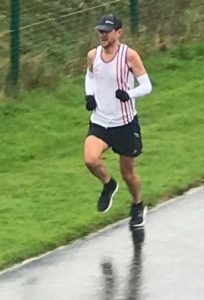 Rob Jackson silver medalist at NMAC 5k – photo by Michelle Moore
Also on the road, at the Preston 10-mile race, Jane Counsell had a good run, finishing first out of 33 women in her F45 age category. Heaton Park proved to be a good hunting ground for the Harriers at the weekend as, on Saturday, Toby Middleton was first from 'gun to tape' in the parkrun ahead of 752 runners with a great time of 16mins 43secs on a course with two stiff hills too. One of Middleton's coaches, Tony Hesketh, also ran the same parkrun and was the first M70 across the line.
In other parkruns there were first places for Nick Leigh at Lancaster, for Emma Bradley as first female at Tawd Valley and for Marty Arnot-Smith at Queens Park in Bolton. But, yet again, Mary White had the Harriers' highest age grading with an 84.28 per cent run at Haigh Woodland, beating Toby Middleton's by 1.03 per cent.
It would not be a Horwich report without some mention of the hills and fells and it was the Hell Of a Hill series of marathons over five days, including several sorties up to Rivington Pike each day. This year Julie Williamson, who has previously completed all five Hell races in a week, took on only one this year on Thursday and was first finisher in the V50 age category, emulating Isaline Kneale who the previous day had also finished first in the same category.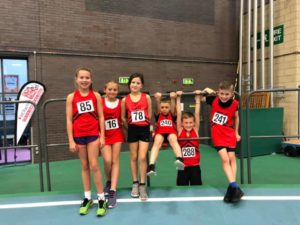 Sportshall team members for Horwich – photo by Gemma Stokes
At the latest round of the Sportshall athletics in Manchester, Horwich, coached by Gemma Stokes, were represented by 26 young athletes. At under-11s, Alice Arrowsmith and Millie Green made the final of the girls' sprints and then in the boys' sprint final Chidera Ajet and Joel Ige were joint second with a rapid 11.46 run. In the throws, Ryan McCaffrey smashed his personal best with over 7m. The girls' team are currently second in the team table.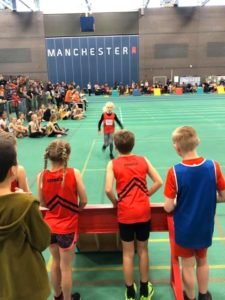 Sportshall team support – photo by Gemma Stokes
Horwich RMI Harriers results: Hell of a Hill Marathon (Chorley) – Day one: 6th Isaline Kneale 4:48:16; 14th Lawrence Pinnell 5:54:29; Day two: 10th Julie Williamson 5:37:18; Northern Masters 5k road championship (Leeds) – 6th Rob Jackson 18:18; Preston 10-mile road race – 111th David Unsworth 1:08:38, 140th Jane Counsell 1:11:06; Blackburn 10k road race – 186th Richard O'Reilly 45:39, 253rd Neil Wilkes 47:21, 564th Geoff Leech 54:20; Manchester MoRun – 1st Rob Jackson 38:06; 13 Arches trail half marathon (Radcliffe) – 262nd Bernie Unsworth 2:03:40; Wadsworth Half Trog fell race – 52nd David Barnes 1:44:08.