Horwich's Phil pipped at the post in strong run
28th November 2019
 By David Barnes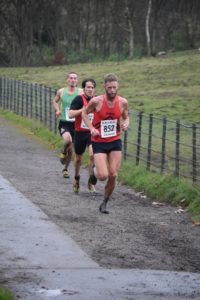 Phil Marsden setting the pace at SEL XC – photo by Andrew Storey
A SECOND outing at Heaton Park this season in the South East Lancs Cross-Country League saw a great second-place finish for Phil Marsden who led most of the way but was beaten on the line by Salford's Joe Bailey. Despite Marsden's strong performance, the Horwich team could manage no better than 11th  of 18 teams in the men's competition as the other three members of the team were slugging it out for honours in the M60 and M65 categories.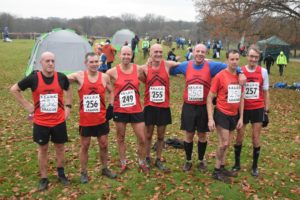 Horwich men at SEL XC – photo by Andrew Storey
Steve Williams was first M65 and just prevailed over a rejuvenated Doug Fleming, who is a new entrant to the M60 category and David Barnes but they had the consolation of winning the V60 team competition. In the women's race there was another top performance from Janet Rashleigh who, in ninth place overall, won the L55 category and finished ahead of the L50 and L45 category winners too. Isaline Kneale was second in the L50 category.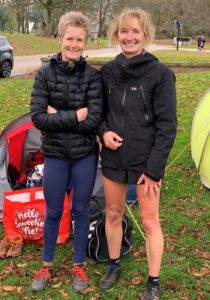 Horwich women at SEL XC – photo by Andrew Storey
The juniors also had a very good day at Heaton Park with Charlotte Wilkinson continuing to step up to the mark with winning performances, this time in the under-13 girls' race. There was a first-ever win for Ben Hall in the u15 boys' race and top-five race results from Tom Finch and Emma Bradley.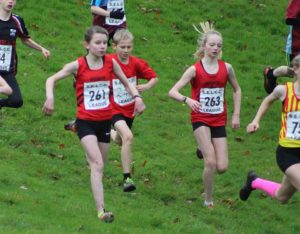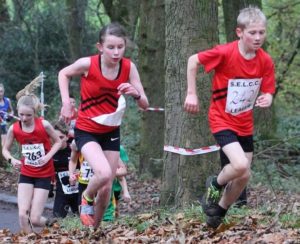 Horwich junior success at SEL XC – photos by Victoria Wilkinson
The juniors also featured prominently in the club's Children in Need fundraising Pike Challenge, organised by Tony Hesketh who the previous day had won the M70 category at Heaton Park. The club raised more than £500 for the charity, enjoying their time in the mists around the tower at Rivington. This is one of several club races organised by Tony and Brenda Hesketh and what is always obvious in the events is that the juniors love having the opportunity to test themselves against their elders. There were a total of 82 laps completed with Alastair Murray doing seven of them.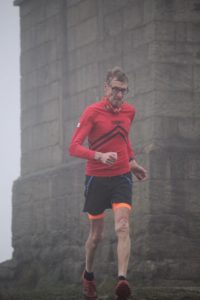 Tony Hesketh leading the Children in Need fundraiser – photo by Janette Bradley
On the fells at Darwen, Dan Gilbert and Mark Walsh took on the David Staff Memorial fell race where the tower is visited twice as the route winds its way across Darwen Moor. Gilbert had another top-10 finish after he and Walsh had also ran the tough Tour of Pendle race the previous week, joined by Julian Goudge who had a fine 12th place. In the Wrekin Wrecker fell race, part of the Shropshire Winter Hill series, David Barnes repeated his performance the previous day in Heaton Park by finishing each race third of 15 runners in the M60 category.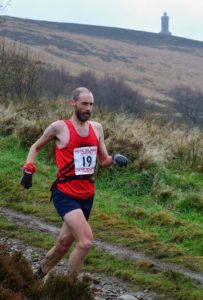 Dan Gilbert & Darwen Tower – photo by Stephen Fish
In parkrun there was a great first place for Luke Brindle at Cuerden Valley, one of the hilliest parkruns in the country and has previously seen many Horwich first places from the likes of Richard Howarth and Gareth Booth. At Haigh Woodland Richard O'Reilly and Gillian Smith both set new personal bests. Isaline Kneale had a busy weekend which started at Bolton parkrun, continued through the cross country and ended with four laps at the Pike challenge.
Results: Tour of Pendle fell race (Barley) – 12th Julian Goudge 02:39:47; 15th Dan Gilbert 01:40:16; 57th Mark Walsh 02:57:55; South East Lancs XC (Heaton Park) – second Phil Marsden 35:20; 82nd Steve Williams 46:11; 83rd Doug Fleming 46:18; 86th David Barnes 46:29; 110th Richard O'Reilly 48:50; 129th Tony Hesketh 50:46; 134th Neil Wilkes 51:10; 150th Lawrence Pinnell 53:19; David Staff memorial fell race (Darwen) – fifth Dan Gilbert 29:22; 13th Mark Walsh 32:02; Wrekin Wrecker fell race (Telford) – 66th David Barnes 01:30:30.