Howarth secures fourth place in Wheelton event
7th November 2019
By David Barnes
HORWICH Harrier Richard Howarth stepped down from his usual marathon distances to take fourth place overall as the Central Lancs Grand Prix closed its 2019 season with the popular Through the Villages 8.45-mile road race from Wheelton near Chorley. Howarth was well supported by Glyn Kay and Marcus Taylor to take the vets team first place, 24 points ahead of Rossendale but crucially 195 points ahead of Swinton, just short of what was needed to move the team into second place in the vets table. There were also fine runs from Rudolf Maciejkowicz and Tony Hesketh to respectively take the M65 and M70 category prizes, each ahead of six others in their category. In the men's senior table, Horwich have achieved a mid-table finish in the competition that now boasts 10 local clubs with the recent addition of newcomers Quays RC and Ramsbottom RC.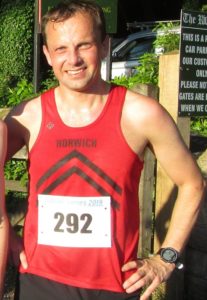 Richard Howarth – photo by David Barnes
The M40/M45 category is competitive in most types of running and at the Punk Panther ultra marathon trail race, Nick Leigh, ranked 77th M40 in the UK, won the race that had last year been won by Alastair Murray, who this year had to settle for fifth place. This is the third year of this event so Horwich are establishing a strong pedigree in the race which takes place over 33 miles and 4,000 feet of ascent in the hills north of Bradford. Race organiser Ryk Downes had a triple heart bypass in 2016 and has himself since returned to ultra running, something not everyone can do but shows what is possible.
Nick Leigh – photo by Julian Goudge
Another top M40 Horwich athlete is Danny Hope and he was pleased to return to racing at the Dunnerdale fell race in the South Lakes. Hope has previously finished second in this race on three occasions – in 2006, 2010 and 2011 – but was happy with his result of 19th overall and fourth M40. He said: "I'll take that after five months without a race". David Barnes returned at the same race after a shorter two-week break but could do no more than 139th out of 201 starters in a race that commands impressive views across the southern Lakes landscape.
Parkrun has been a great entry point for so many runners providing challenging timed runs and a good family and social vibe too. At a rainy Pennington Flash parkrun, three generations of the Williams/Collings family enjoyed themselves with son Lucas Collings getting a course personal best of 23mins 37secs, mum Emma Collings finishing first vet lady 40 and grandad Steve Williams was fifth overall and first M65.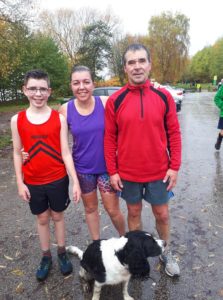 Collings-Williams family at parkrun – photo courtesy of Emma Collings
There were also three first places for Horwich at other parkruns. Emma Bradley, running as an under-14, was first female at Tawd Valley in Skelmersdale, while at Bolton, Toby Middleton got his fourth first place parkrun of 2019 – three of them at Bolton. Joe Mercer also got his fourth first place parkrun of 2019, this time at Marple.
Horwich RMI Harriers results: Punk Panther Short Circuit ultra marathon trail race (Otley) – 1st Nick Leigh 4:42:40, 5th Alastair Murray 5:01:25; Dunnerdale fell race (Broughton Mills) – 19th Danny Hope 44:47, 139th David Barnes 1:03:59; Through the Villages road race (Wheelton) – 4th Richard Howarth 49:33, 8th Glyn Kay 53:40, 17th Marcus Taylor 55:06, 51st Colin Rigby 59:17, 97th Mark Kmiec 1:03:26, 131st Rudolf Maciejkowicz 1:06:39, 160th Tony Hesketh 1:09:26, 172nd Ian Hamer 1:10:45, 173rd Lawrence Pinnell 1:11:10.