It's a muddy good day all round for club's runners
31st October 2019
 By David Barnes
HORWICH Harriers runners endured a mud-fest to achieve good results in the second round of the Red Rose Cross Country League at Leverhulme Park. At the meeting well organised by Bolton United Harriers, the under-11s – including 21 Horwich youngsters – got the event off to an enthusiastic start. Horwich boys' team of Tom Finch, Mark Titmuss and Harry Yates were sixth out of nine teams and the girls' team of Georgia Clarkson, Isobelle Wilkinson and Charlotte Vickers improved on that with third place out of nine. Charlotte Wilkinson then produced Horwich's only individual win of the day with a fine run in the u13 girls' race. She was joined by Imogen Andreassen and Lois Bowl to give the team fourth place out of nine.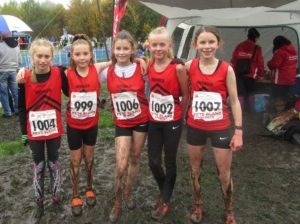 u-13 girls at RRXC – Leverhulme Park – photo by David Barnes
The u13 boys' team of Harrison Stokes, Sam Bradley and Ben Topham could not quite match that with fifth place out of nine. The u15 boys are collecting some nice team prizes this year and did so again to beat Rossendale to first place, Isaac Battye, Zack Taylor and Ben Hall all having strong runs in third, fifth and ninth places.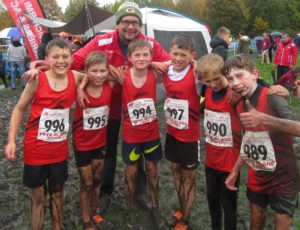 u-13 boys at RRXC – Leverhulme Park – photo by David Barnes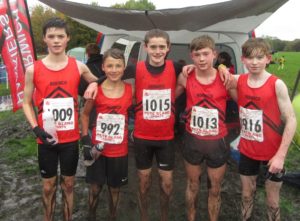 u-15 boys at RRXC – Leverhulme Park – photo by David Barnes
In the senior races. with the course now churned and the stream brim-full, Bolton's Jonothan Kay had a magnificent run to win with a clear margin of a minute, leaving Horwich's James Scott-Farrington and Rossendale's Robert Webb competing for the other podium places. Scott-Farrington, who specialises in triathlon, showed he is no mean all-round athlete with third place. There were also age-category wins for Steve Williams (M65), despite his close encounters with the mud, and for Tony Hesketh (M70) and John Parker (M75).
James Scott-Farrington 3rd at RRXC Leverhulme Park – photo by David Barnes
The men's team result of 10th out of 15 was a definite improvement on Heaton Park the previous week but, apart from Scott-Farington's performance, does not look like threatening the make-up of the club's Manchester League senior cross country team, due out again soon. Emma Collings was the only Horwich woman running in the senior race, a solo experience shared with Milly Lever in the u17s' race and Freya Whittle in the u15s' race. Luke Brindle and Thomas Massey had strong runs in the u17s' race but lacked a third team member for what would otherwise have been a good team result.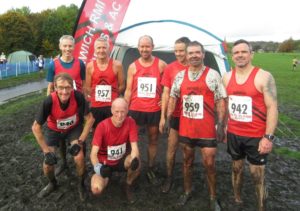 Horwich men at RRXC Leverhulme Park – photo by David Barnes
Elsewhere, there was another third place for Dan Gilbert on the fells at the Race You To The Summit race above Littleborough. In the Lake District, father-and-son team Mark and Robert Seddon had another great result in the Original Mountain Marathon race, taking 12th place out of 88 finishers in a race that saw more than 25 teams retiring due to the gruelling conditions for the two-day competition which attracts runners from across the world. Not far away in Ullswater, Lesley Davidson and Lynn Smith gave Pennington Flash parkrun a miss to take part in the Lakeland trail race around the lake.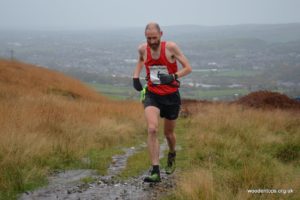 Dan Gilbert racing to the summit in 3rd place – photo by woodentops.org.uk
In parkrun, there were three first places with Michael Chadderton making his debut at Haigh Woodland, Gareth Booth in familiar territory at Cuerden Valley and Isaac Battye first at Queens Park, with Aidan McKenna in second, both having recovered well from their cross-country exploits the day before.
Horwich RMI Harriers results: Red Rose Cross Country League (Leverhulme Park, Bolton) – Ladies: 72nd Emma Collings 32:03; Men: 3rd James Scott-Farrington 37:24, 44th Mark Walsh 42:50, 95th Ian Collings 47:19, 107th Gary Chadderton 48:11, 128th Stephen Williams 49:34, 131st Doug Fleming 49:42, 140th Kevin Newall 50:17, 146th Richard O'Reilly 50:35, 173rd Tony Hesketh 54:19, 182nd Lawrence Pinnell 55:37, 219th John Parker 1:07:58; OMM Mountain Marathon B race – 12th Mark Seddon/Robert Seddon 10:14:06; Ullswater Trail Race – 242nd Lesley Davidson 2:36:45, 243rd Lynn Smith 2:36:45; Accrington 10k road race – 278th Julie Williamson 56:29; Race you to the Summit fell race (Littleborough) – 3rd Dan Gilbert 33:29.