'A' team overcome Ian's injury in Bamford event
24th October
By David Barnes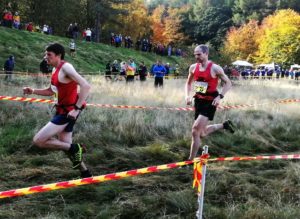 Joe Mercer & Nick Leigh – great FRA leg – photo by Peter Ramsdale
HORWICH Harriers' A team overcame an early injury to Ian Conroy to finish in a respectable position at the FRA fell relay championships in Bamford. The event is the biggest annual event in the fell racing team calendar in the UK and sets off from below the huge Derwent Dam. On leg one, Conroy went over on his ankle but, true to the team, hobbled on to finish the leg 12 minutes behind the leaders in 107th place. The rest of the team then did a brilliant job to claw their way back up to finish 24th, with an outstanding second leg run by Joe Mercer and Nick Leigh, using their navigation skills to finish eighth fastest on that leg. James Kevan and Alistair Thornton then picked up the baton and gave Sam Wardle a good platform which he used well to gain a few places for a fine top-25 finish.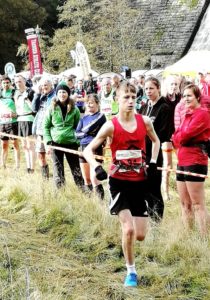 Luke Brindle – great FRA debut – photo by Peter Ramsdale
The B team were 39th out of 250 teams and included two great championship debut runs from Robert Seddon and Luke Brindle, who have graduated through the club's junior ranks and now run as under-17 men. Alastair Murray, who had organised the club's involvement in the event, had a very good run on the third leg with Dan Gilbert for the B team on a day that rewarded tenacity and running guile. Credit was also reserved for the Dark Peak Fell Runners club for their good organisation of the event.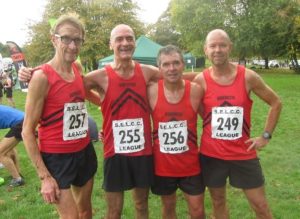 Horwich men at Heaton Park – photo courtesy of Kath Williams
The cross-country season continued with the start of the South East Lancs League in Heaton Park. It is the 95th year of the league which commenced in 1912 and the fixture saw a large turnout of more than 460 runners experiencing the muddy terrain. The top Harriers result on the day was from Janet Rashleigh who won her L55 age category but, more impressively, was eighth out of 122 women. For the men, Steve Williams (M65) and Tony Hesketh (M70) both won their age categories and were joined by David Barnes and cross-country debutant, Richard O'Reilly, both having solid runs but to little avail as the team finished 18th out of 19 teams.
Tom Finch fine run at Heaton Park – photo by Victoria Wilkinson
Some of the Harriers' junior cross-country squad also enjoyed the Heaton Park event with Tom Finch, in his debut cross-country season, having a good fourth-placed finish in the u11 boys' race. In the u11 girls' race, Isobelle Wilkinson was 11th and Charlotte Wilkinson took second place in the u13s' race despite having spiked debris hampering her progress. Emma Bradley was third in this race. It was left to the u15 boys to bring home a team triumph for the Harriers this week, as Isaac Battye and Zach Taylor – in first and second place – reversed positions from last week's Red Rose race, and Jack Barrago backed them up well to beat the Oldham team into second place.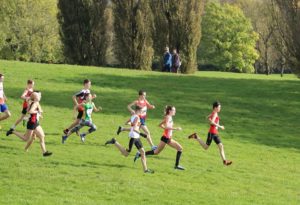 Isaac Battye leads at Heaton Park – photo by Victoria Wilkinson
In parkrun there were three 80-per-cent plus age-graded runs from Gareth Booth (first at Preston), Mary White (top scoring with 84.51 per cent at Haigh Woodland) and Toby Middleton (getting a new personal best at Stretford, finishing second in 16mins 41secs). In the Queens Park junior parkrun, Aidan McKenna and Marty Arnot-Smith got new PBs in second and third place and there was another fine debut from Emma Lucey as second female.
Horwich RMI Harriers results: FRA fell relay championships (Bamford) – A team: 105th Ian Conroy 52:08, 8th Joe Mercer/Nick Leigh 1:06:54, 31st Alistair Thornton/James Kevan 1:30:43, 19th Sam Wardle 45:56; B team: 56th Robert Seddon 46:43, 56th Alex Fowler/Jonathan Bruton 1:18:58, 37th Dan Gilbert/Alastair Murray 1:32:11, 71st Luke Brindle 52:21; South East Lancs cross country (Heaton Park) – Ladies: 8th Janet Rashleigh 33:47; Men: 92nd Steve Williams 46:18, 96th David Barnes 46:39, 124th Richard O'Reilly 49:22, 152nd Tony Hesketh 51:17; City of Preston 10k – 276th Alan Ashley 51:36; Amsterdam Marathon – 10,650th Lawrence Pinnell 4:32:18.