Team and individual success for members
17th October
By David Barnes
HORWICH had more than 100 members, junior, senior and vets taking part in competitions last weekend with excellent team and individual results. In the first fixture of the Manchester Area Cross Country League, James Kevan, individual title winner last year, had a strong fourth-place finish and the senior team which finished fourth in the top division last year was fourth again. The men's vets team, promoted from Division Two made a great start, led by Nick Leigh, to take second place in the top division, while in the women's race Janet Rashleigh put in a well-paced race to take first place in the L55 category.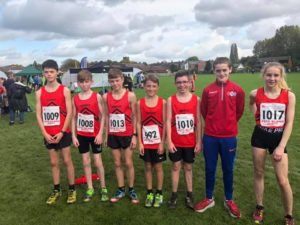 under-15 winners at Leigh – photo by Gemma Stokes
At Leigh Sports Village on the same day it was the first fixture this year of the Red Rose Cross Country League and there were more than 50 Harriers in the junior races with Charlotte Wilkinson winning the under-13 race on the line. Several runners made their Harriers cross-country debuts, including Zack Taylor who got a fine fourth place in the u15 race and, with Isaac Battye and Ethan Isaacs won the team contest.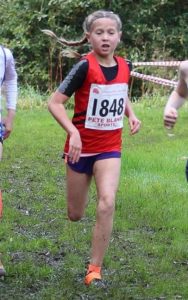 Georgia Clarkson at Leigh – photo by Victoria Wilkinson
Georgia Clarkson in her second cross-country season took sixth in the large field of u11 girls. The u17 men's team were also winners with Robert Seddon, Toby Middleton and Luke Brindle first, third and fifth. In the men's senior race, the vets team were fifth out of 18 teams, demonstrating a good strength in depth for the Harriers this year.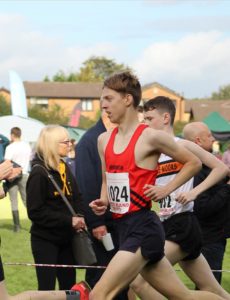 Robert Seddon – winner at Red Rose XC – photo by Victoria Wilkinson
The following day some of the seniors at Leigh turned out again for the Gin Pit 5-mile trail race and the men's team of Glyn Kay, Marcus Taylor and Ian Collings were the second-placed team, 11 points behind Radcliffe. Steve Williams won the M65 first prize at both the Red Rose race and at Gin Pit.
Harriers at Gin Pit – photo courtesy of Ian Collings
This weekend will be the FRA fell relay championships in the Peak District and the Harriers should have a strong turnout including Alistair Thornton, who warmed up with second place in the Gobigmoor race in the Peaks on Saturday. Toby Middleton followed up his cross country race with the Withins Skyline fell race on Sunday where he was the winner of the men's u17s race.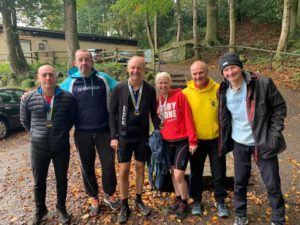 Harriers at 2UP duathlon – photo courtesy of Andrew Storey
The Harriers share some members with triathlon clubs and a few of these took part in the Firefighters 2UP duathlon around Rivington with competitors in pairs over a four-mile trail route twice and a 25-mile cycle route. Julian Goudge and David Purnell had the club's best result in seventh place, but in the colours of Horwich Tri. Neil Wilkes and Geoff Leech were the top finishers in RMI colours.
In parkrun, Lynn Smith completed her 200th run at Pennington Flash. while Gareth Booth was first at Cuerden.
Horwich RMI Harriers results: Gobigmoor fell race (Dronfield) – 2nd Alistair Thornton 1:29:00; Manchester Area Cross Country (Wythenshawe) – women: 27th Janet Rashleigh 34:54, 32nd Rowen Pymm 35:11, 62nd Kimberley Chadderton 37:01; men: 4th James Kevan 32:33, 13th Phil Marsden 33:21, 15th Joe Mercer 33:29, 19th Nick Leigh 33:52, 40th Alastair Murray 35:40, 82nd Jonathan Bruton 37:34, 89th Andy Lloyd 37:54, 120th Marcus Taylor 39:04; Red Rose Cross Country (Leigh) – women: 102nd Emma Collings 29:03; men: 18th James Titmuss 35:45, 45th Mark Walsh 38:32, 86th Ian Collings 41:41, 113th Doug Fleming 43:25, 123rd Kevin Newall 44:02, 133rd Stephen Williams 44:26, 168th Mark Seddon 48:20, 170th Tony Hesketh 48:37, 173rd Lawrence Pinnell 49:01, 205th Mick Crook 54:12; Maverick inov-8 Oxfordshire trail race – 46th David Barnes 1:56:29; Firefighters 2UP duathlon – 7th Julian Goudge and David Purnell 2:08:24, 120th Neil Shelmerdine and Paul Sykes 2:41:12, 124th Neil Wilkes and Geoff Leech 2:41:53, 241st Andrew Storey and Jeanette Lewis 3:06:12; Delamere Forest Hell Runner race – 34th Richard O'Reilly 2:19:00; Gin Pit trail race (Astley) – 4th Glyn Kay 30:36, 7th Marcus Taylor 31:31, 19th Ian Collings 33:52, 37th Ste Williams 35:50, 72nd Lawrence Pinnell 40:37, 96th Emma Collings 46:12; Munich Marathon – 2,615th Julie Williamson 4:34:31; Wiggle Manchester Half-Marathon – 272nd Rob Jackson 1:24:15, 922nd Jane Counsell 1:37:52, 1,367th David Unsworth 1:43:18, 1,807th Stuart Bolton 1:47:42, 3,977th Bernadette Unsworth 2:06:24, 4,211th Claire Blood 2:07:54.