O'Reilly tastes success in Horwich RMI Harriers' Fielden Cup
3rd October  2019
By David Barnes
After the endeavours on the international stage last week, this week it is back to the hills and trails around Horwich. In the final round of the 2019 English fell championships at Ilam in Derbyshire, Alistair Thornton was the top Harrier closely followed by Nick Leigh who has taken 2nd place in the M40 series for the championship this year.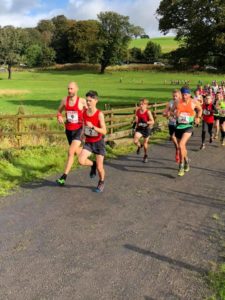 Horwich lead out at Thieveley Pike – photo by Dan McKenna
Closer to home at Cliviger near Burnley, James Kevan and Dan Gilbert had top ten finishes on a sodden course that was blessed with sun amongst the showers. In a clever arrangement the organisers had the juniors set off with the seniors but on a shorter course and it clearly worked for the Harriers' juniors as in the under-15 race Isaac Battye brought home a 1-2-3-4 with Ethan Isaacs, Zack Taylor and Benjamin Hall in close order. At under-13 Aidan McKenna took 2nd place.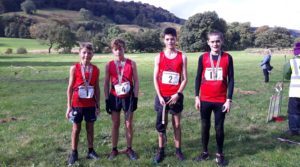 Horwich Top 4 at Thieveley Pike – photo by Paul Battye
Even nearer to Horwich on Sunday it was the Winter Hill Mast Blast on a day of downpours and saturated bogs with Mountain Rescue marshalling a race that raises much needed funds for their service. Sam Kavanagh and Julie Williamson were rewarded with good results, Julie taking 2nd F50 place. At the same time on trails around Worsley Woods in the latest round of the Central Lancs Grand Prix, Glyn Kay put in another fine performance, 6th overall as 2nd finisher in the competitive M45 category with Marcus Taylor's 12th place providing keen and friendly rivalry in the same category. Lawrence Pinnell and Tony Hesketh had a close race, Tony winning the M70 prize and all four Harriers will be looking for good standings in the Grand Prix with two more races to go this year.
Final results from the Area Fell Grand Prix have been announced and Horwich finished 4th of 8 clubs this year. Dan Gilbert was 2nd senior man in the series which gave him the M40 title by 2pts. Gary Chadderton and Doug Fleming were 2nd and 3rd in the series M55 category and Ray Stafford was the top M80 runner on the strength of his Rivington Pike race result. They will all look forward to the prize giving at the Presentation evening hosted by Radcliffe AC later this month.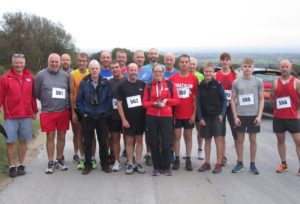 Fielden Cup line-up 2019 – photo by David Barnes
All four Harriers at Worsley Woods had warmed up 3 days earlier in the club's Fielden Cup on Georges Lane above Horwich. This club competition has a long history having first been run in 1898 to celebrate the opening of the Samuel Fielden wing of the Mechanics Institute on Chorley New Road and it used to be an out and back to the Bee Hive. As a handicap race it often gives the winner a moment of glory and this was certainly the case this week with Richard O'Reilly winning a race for the first time. Seeing the runners off this year was Stewart Westhead now club President but who in 1973 is reputed to have been pipped to winning the Cup by the width of a vest worn by the winner Peter Schofield.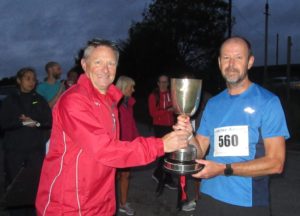 Peter Ramsdale presents Fielden Cup to Richard O'Reilly – photo by David Barnes
In parkrun this week Phil Marsden was 1st at Witton Park and Emma Bradley was 2nd female at Morecambe Prom. Robert Seddon took on the fast Stretford parkrun and with a great time of 16:47 was still only 6th finisher but gained the highest Harrier age grading this week of 80.44%.
Horwich RMI Harriers results: Ilam park fell race – 18th Alistair Thornton 37:42; 21st Nick Leigh 38:21; 45th Dan Gilbert 41:44; 91st Mark Walsh 47:27; Fielden Cup (Horwich) – top 5: 1st Richard O'Reilly 22:29; 2nd Glynne Lever 23:11; 3rd Dan Gilbert 23:20; 4th David Unsworth 23:28; 5th Colin Andreassen 23:32; Thieveley Pike fell race  (Cliviger) – 4th James Kevan 34:08; 6th Dan Gilbert 36:49; 56th Doug Fleming 47:23; Winter Hill Mast Blast 10k fell race – 24th Sam Kavanagh 01:13:21; 46th Julie Williamson 01:27:16; Worsley Woods 5 mile trail race – 6th Glyn Kay 30:33; 12th Marcus Taylor 32:39; 93rd Lawrence Pinnell 39:55; 94th Tony Hesketh 40:01;