Toby helps England to team gold on his debut
26th September
By David Barnes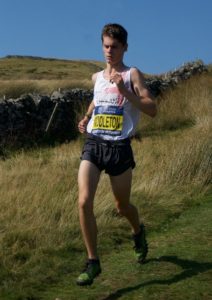 Toby Middleton running for England – photo by Theo Middleton
YOUNG Harrier Toby Middleton helped bring home team gold for England in his first appearance for his country. He had a great run for eighth under-17 place in the Mountain Running Home International in north Wales at Llanberis. Toby's dad, Jason described the course as 'brutally hard' and was run over a 7k course that is 50 per cent longer than the usual u17 fell-race courses. Several other Harriers flew the flag for Horwich across the home nations and at Abersoch, Emma Bradley was first female home in the 2k Beach Blast, which gave her first place in the series.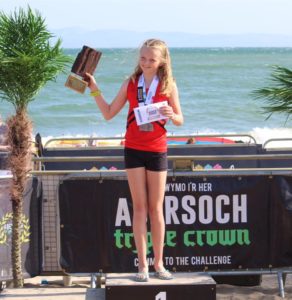 Emma Bradley – winner at Abersoch – photo by Janette Bradley
During the week, British Athletics confirmed the 43 athletes selected to compete at the World Para Athletics Championships in Dubai which are being held from November 7-15 and inspirational Horwich sprinter Ola Abidogun earns his first British vest since the IPC European Championships in Swansea in 2014. Dan McKenna is one of the club's seniors inspired by Abidogun's achievements and gave further evidence of steady progress with a sub one-hour performance at the Scottish 10k along the Golf Coast near Edinburgh.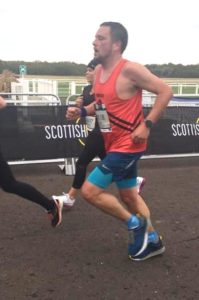 Dan McKenna at Scottish 10k – photo by Aidan McKenna
Elsewhere, David Barnes won the M60 prize at the final round of the Inov-8 Pennine trail series at Hurstwood. After first and second M60 category results in the previous two rounds, this gave him top spot in the age category for the series. He then went to Marsden, in west Yorkshire, and was successful in taking the M60 prize at the Utterly Butterly fell race.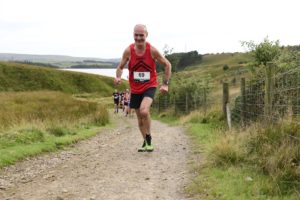 David Barnes – winning M60 at Hurstwood series – photo by David Belshaw
Also on the fells, in the Isle of Man, Isaline Kneale was second W50 at the tough Narradale race over 12 miles and 3,500 feet of ascent. Another challenging fell race is the Lost Shepherd on the Pennines in west Yorkshire where Michael Crook was second M70 and was joined by Lawrence Pinnell as the only two Harriers in the final round of the area fell grand prix for 2019. Marcus Taylor and Colin Rigby enjoyed the classic Three Shires race in the Lake District – a race that tests most aspects of fell-running technique over stunning landscape.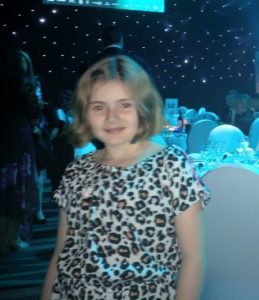 Fern O'Brien at Active Sports Awards – photo by Paul O'Brien
Fern O'Brien was a well-deserved candidate for the Unsung Hero award at the Bolton Active Sports Awards following her impressive fundraising through a Pike challenge for good causes. Dad, Paul reports that even though Fern did not win in a strong category, they had a good night and it was nice to see the event programme record Fern's ambition to one day be named on the Spirit of Sport, near Bolton Arena.
In parkrun, it was a series of second places for Harriers this week with James Jordan (Watergrove), Glyn Kay (Pennington Flash), Robert Seddon (Worsley Woods), Maria Lowe (South Manchester), Ellie Rockliffe (Queens Park) and Linda Webb (Vandeleur) all runners-up.
Horwich RMI Harriers results: Lost Shepherd fell race (Mytholmroyd) – 57th Michael Crook 3:07:40, 62nd Lawrence Pinnell 3:14:01; Narradale fell race – 32nd Isaline Kneale 3:08:27; Hurstwood Hills trail race – 37th David Barnes 24:17; Three Shires fell race (Little Langdale) – 80th Marcus Taylor 2:45:01, 221st Colin Rigby 3:42:19; British Mountain Running Championships – (under-20 and u17s): 23rd Toby Middleton 34:35; Scottish 10k road race – 730th Dan McKenna 59:48; Utterly Butterly fell race – 29th David Barnes 41:28.