Walton leads the way as junior runners star again
22nd August 2019
By David Barnes
ENGLISH champion Sophie Walton starred again on the track this weekend at the Northern Championships at Wavertree, winning the under-17s 100m. She worked her way through two rounds of heats and then won the final in the face of a strong headwind. Walton was joined by three Horwich clubmates, each putting in impressive performances of their own. Niall Maloney, after a few weeks out with injury, was third in the u17s long jump, while, at u15s, Isabella Merritt was unlucky to finish ninth out of 19 in the 300m heats, narrowly missing out on a place in the final. At u13s, Emma Bradley – in her first major track competition – had three good long jumps and was then eighth out of 20 in the 800m. Coach Trevor Williams was well pleased with the performances and said: "Each athlete competed superbly in some very blustery conditions."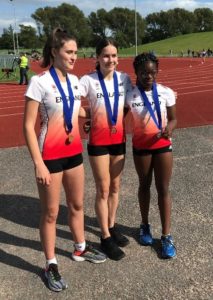 Sophie Walton – centre – wins Gold – photo by Trevor Williams
On different terrain at the Gargrave Show fell race, the Wilkinson sisters – Charlotte and Isobelle – earned prize money in each finishing second, Charlotte in the u14s and Isobelle in the u12s. The beck was in full flow but Charlotte took it with gusto and Isobelle enjoyed the wall vault en route too.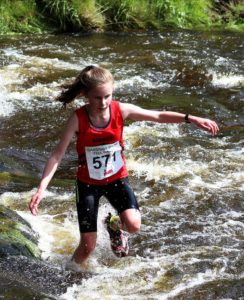 Charlotte Wilkinson at Gargrave – photo by Victoria Wilkinson
Horwich's veteran men had a good week and at a misty Whittle Pike in the latest round of the Rossendale midweek fell league, Joe Mercer, not yet a vet, won the race and led the team of Nick Leigh, Dan Gilbert and Mark Walsh to the team prize, too, with David Barnes also running. This has left Mercer and Gilbert with a great chance of winning the overall title with two races left, while Walsh and Barnes are also in with a good shout of winning their respective series age-category prizes.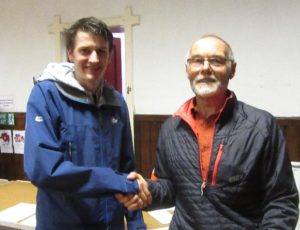 Joe Mercer receives 1st prize from Nick Harris at Whittle Pike – photo by David Barnes
Then, at Darwen Moor, Horwich's men's team of Walsh, Barnes and Tony Hesketh won the team prize in the Gala race, largely on the back of Walsh's fine second place. Each won their age category, as did Suzanne Budgett who was second woman. The race is a memorial for Catherine Dowdall who died in 2013 and her husband Jamie was on hand to give out the prizes. At the testing Pendle Three Peaks fell race, Isaline Kneale flew the flag for Horwich and returned with the women's F50 first prize.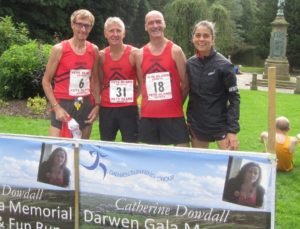 The Murder Mile is one of many club races Hesketh organises and this year saw a keen contest between juniors and vets in the race from Gingham Brow, in which Cian Healy made a welcome and impressive return to running. He led throughout and steadily pulled out a nine-second margin from Gilbert to give the juniors the win. Charlotte Wilkinson did the same for the junior girls, pipping Janet Rashleigh as first female, while Matthew Mair also outperformed the seniors at the Podium 5k road race on Friday evening. In the competitive B race he finished second.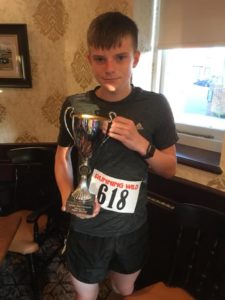 Cian Healy wins Murder Mile – photo by Katie Lever
In parkrun, Maria Lowe was first out of 113 women at South Manchester and Jay Pamphlett got a new personal best at the Queens Park junior parkrun. Glyn Kay was second at Haigh Woodland.
Horwich RMI Harriers results: Whittle Pike fell race (Cowpe) – 1st Joe Mercer 44:08, 5th Nick Leigh 48:30, 9th Dan Gilbert 49:28, 24th Mark Walsh 54:04, 71st David Barnes 1:06:27; Murder Mile hill race (Horwich) – top 10: 1st Cian Healy 8:05, 2nd Dan Gilbert 8:14, 3rd Glyn Kay 8:23, 4th Isaac Battye 8:28, 5th Marcus Taylor 9:13, 6th Sam Bradley 9:33, 7th Charlotte Wilkinson 9:50, 8th Janet Rashleigh 10:01, 9th Kevin Newall 10:02, 10th Ste Williams 10:07; Podium 5k B race (Barrowford) – 2nd Matthew Mair 17:22, 38th Steve Thomasson 22:00; Darwen Gala Catherine Dowdall Memorial fell race – 2nd Mark Walsh 36:41, 13th David Barnes 43:26, 20th Tony Hesketh 45:42, 21st Suzanne Budgett 46:08; Fleetwood half marathon – 166th Stuart Bolton 1:54:38; Pendle Three Peaks fell race (Barley) – 111th Isaline Kneale 2:18:26; Tour of Norland Moor fell race (Copley) – 31st David Barnes 49:41.