Middleton shines on fells for second at Pendleton
29th August 2019
By David Barnes
TOBY Middleton ran the race of his life on the fells at Pendleton to achieve second place in the England trials for the Home Countries championships in September. On the same day at the Chipping Show fell race on the edge of Bowland, the penultimate fixture in this year's Area Fell Grand Prix, Dan Gilbert secured top spot in the race for the MV40 prize for the series by finishing second on the day with James Titmuss a close fourth. Suzanne Budgett was first LV55 and the results of Gary Chadderton and Lawrence Pinnell consolidated Horwich's mid-table position in the league.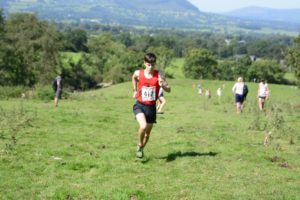 Toby Middleton at England Trials – photo by David Belshaw
Earlier in the week, Horwich had success in the Rossendale Harriers' midweek fell series. On the night at the Golf Ball race from Loveclough, Nick Leigh had a resounding win but it was Joe Mercer in third place on the night who sealed the overall men's series victory and there were series age-category wins for three Harriers n– Gilbert (M40), Mark Walsh (M50) and David Barnes (M60). Leigh, Mercer and Gilbert narrowly missed out on the team prize on the night by one point from Barlick Harriers.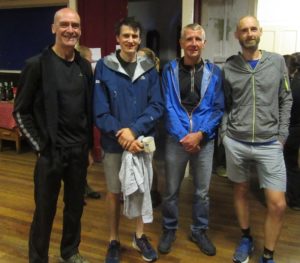 Horwich winners in Rossendale series – photo courtesy of David Barnes
On the same night it was the club's 5k trail race, organised by Tony Hesketh, and the seniors had a better night than at the Murder Mile the previous week where the juniors had triumphed. James Scott Farrington was first male and Kim Chadderton first female, while Robert Seddon recovered well from the previous night's Trafford AC grand prix track performance to be first junior male in second place overall and Milly Lever was first junior female.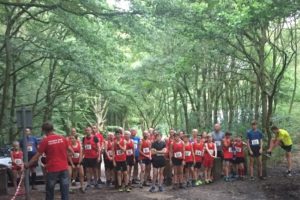 Tony Hesketh starting club 5k – photo by Katie Lever
Seddon had an excellent all-round performance, mixing up the running disciplines having won the Trafford AC grand prix 800m on the track and then finishing second in the club's trail race before ending the week with a good result in the top 40 of athletes competing for places in the England team in the Pendleton senior fell race. Hesketh was first M70 in this race and it was a fitting tribute to his coaching and running pedigree that he achieved this at the same event one of the club's junior fell runners he has coached also excelled earlier in the day. Another junior fell squad member, Emma Bradley, had a great result in the Yorkshire Dales at the latest British Open Fell Runners' Association fixture at Reeth Show, finishing third girl in the under-14 race.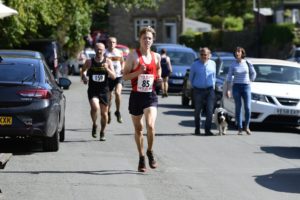 Robert Seddon at England Trials – photo by David Belshaw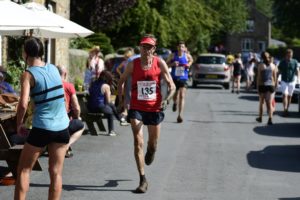 Tony Hesketh at England Trials – photo by David Belshaw
At parkrun, Nick Leigh continued his winning ways, this time at Haigh Woodland, and James Jordan notched up another first place, this time at Chadderton Hall. Rowen Pymm was second woman at Oldham and there was a personal best for Mark Kmiec who, as something of a parkrun tourist, ran the Swindon parkrun as his eighth venue in 12 runs.
Horwich RMI Harriers results: Trafford Grand Prix open meeting – 800m: 4th Matthew Mair 2:08.13; 1500m: 1st Robert Seddon 4:18.44; Harriers' 5k club trail race (Rivington) – Top 10: 1st James Scott Farrington 17:29, 2nd Robert Seddon 18:34, 3rd Glyn Kay 19:04, 4th Isaac Battye 19:10, 5th Cian Healy 19:34, 6th Marcus Taylor 19:59, 7th Ethan Isaacs 21:04, 8th Ian Collings 21:12, 9th Kim Chadderton 21:15, 10th Ben Hall 21:27; Golf Ball fell race (Loveclough) – 1st Nick Leigh 38:51, 3rd Joe Mercer 40:10, 14th Dan Gilbert 42:23, 27th Mark Walsh 45:16, 100th David Barnes 54:21; Ice Lolly 5k trail race (Walker Fold, Bolton) – 53rd Olwyn Smith 34:53; Pilling 10k road race – 24th David Unsworth 43:59; Chipping Show fell race – 2nd Dan Gilbert 1:13;26, 4th James Titmuss 1:13:55, 17th Gary Chadderton 1:26:46, 37th Suzanne Budgett 1:41:29, 56th Lawrence Pinnell 2:01:29; Pendleton fell race (near Clitheroe) – 40th Robert Seddon 43:43, 93rd Tony Hesketh 54:34, 121st David Barnes 1:00:30; Black Combe Country Fair fell race – 23rd David Barnes 1:40:53.