Nuttall Pips the rest in Yorkshire for second title
5th September 2019
By David Barnes
HORWICH'S Pip Nuttall, competing at under-13, added the Yorkshire title to the Lancashire Combined Events Open she won earlier this year when she was victorious at the Dorothy Hyman Stadium in Barnsley. She started off with a personal best of 7.18m in the shot put, consolidated her position in the long jump before winning the 800m in another PB of 2:42.18 to give her a total points score of 1,306. Coaches Trevor Williams and Paul Wibberley joined her family in applauding her success this year built on hard work and talent.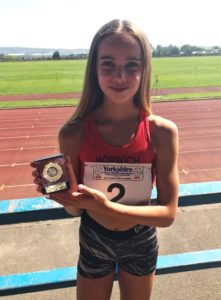 Pip Nuttall wins Yorkshire title – photo by Trevor Williams
In a successful week for the club's juniors, a sunny Bedford Stadium held the English National Championships where two young athletes reached finals and performed exceptionally well. Niall Maloney qualified for the final eight and then got in all six jumps to finish seventh in England at u17s for the long jump, including a PB of 6.49m. Sophie Walton, also competing at u17s, doubled up running in both sprint distances and qualified for the finals. In the 100m, despite a poor start, she fought back to take second place – achieving a PB of 11.96 along the way. On Sunday, in the 200m, she stormed away from the start line and was increasing her lead as she crossed the line in gold medal position, making it a fourth national title in 2019.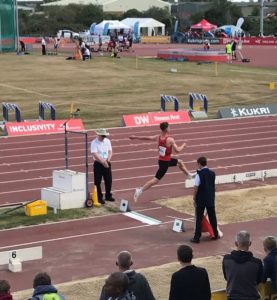 Niall Maloney finalist at English nationals – photo by Trevor Williams
Sophie Walton & Trevor Williams at English nationals – photo by Shaun Walton
Building on her Yorkshire success, Nuttall went to the Southport and Waterloo Open meeting and picked up gold, silver and bronze medals in the high jump, long jump and 70m hurdles. Also at this event, Isaac Parker was a winner of two gold medals at u20s in the 200m and 400m races.
Emma Bradley ran the Burnsall fell race in the BOFRA series of tough short fell races and was third girl at u14s which, with two races remaining, puts her in a good position of achieving third overall. The fell season continues apace for the seniors, too, and the ever-popular Harrock Hill series ended for 2019 with age-category wins for Suzanne Budgett at L55 and Tony Varley at M70. Horwich men just missed out on the team win despite second, third and sixth places from James Kevan, Nick Leigh and Alistair Thornton, St Helens Sutton AC having filled first, fourth and fifth places. Consolation came for Leigh winning the M40 and Thornton the MU23 category prizes on the night.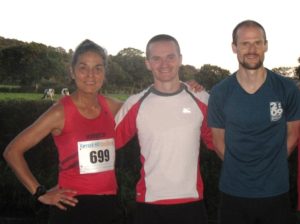 Suzanne Budgett James Kevan Nick Leigh – photo courtesy of David Barnes
Off the fells, road specialist Richard Howarth took second place in the Golden Ball 20-mile race at Lancaster in a fine time under two hours. Earlier in the week, there was also a good second place for Glyn Kay at the Littleborough Lions 5k. Both runners were rewarded with age-category wins.
In parkrun, it was another run of second and third places. Toby Middleton was second at one of the hilliest parkruns in the country at Cuerden Valley and Suzanne Budgett was second female at Fletcher Moss in Didsbury. Third places were secured by junior Harriers Robert Seddon (Bolton), Luke Brindle (Worsley Woods) and Imogen Andreassen (third female at Haigh Woodlands). Maria Lowe had a great 25th overall finish out of 663 runners at Stretford, to take the third female place.
Horwich RMI Harriers results: Littleborough Lions 5k road race – 2nd Glyn Kay 18:01; Harrock Hill fell race (Parbold) – 2nd James Kevan 32:02, 3rd Nick Leigh 32:42, 6th Alistair Thornton 33:26, 70th David Barnes 44:33, 108th Suzanne Budgett 48:46, 150th Tony Varley 54:45; Golden Ball 20-mile road race (Lancaster) – 2nd Richard Howarth 1:58:18; John Hewitt Memorial Shelf Moor fell race (Old Glossop) – 69th David Barnes 1:04:30; Inov-8 Gorple Rocks trail race (near Burnley) – 32nd David Barnes 44:55.