Marsden takes second spot in Lakeland event
8th August 2019
By David Barnes
HORWICH'S Phil Marsden continues to be one of the club's top fell racers and displayed as much when he took second place at Kentmere Horseshoe. Joe Mercer is in the top bracket, too, and almost succeeded in winning the Lee Mill race that Dan Gilbert won last year, but had to settle for second place. This year, Gilbert was seventh and first M40, but also had his eyes set on the Creag Dhubh event less than four days later and enjoyed the Scottish Hill championship race that attracts a big quality field, including another Harrier Mark Walsh, and includes nine fence obstacles, a river crossing and a steep rocky descent.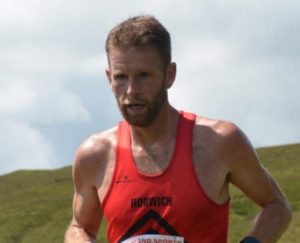 Phil Marsden – photo by woodentops.org.uk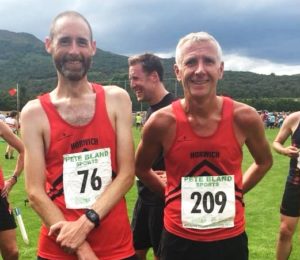 Dan Gilbert & Mark Walsh at Creag Dhubh – photo by Tracy Hindley
The latest round of the Area Fell Grand Prix, contested by eight local clubs, took place from Uppermill on Sunday with Horwich hoping to improve their relatively low standing this year. Doug Fleming had a fall halfway along the route but recovered well to finish as first M55.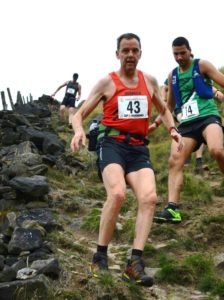 Doug Fleming 1st M55 at Saddleworth – photo by Gareth Evans
David Barnes, with his result at Saddleworth, has moved up to third place in the series' M60 category and he also won the M60 series prize three days earlier at the Badger 10k trail race at Cuerden Valley. Lawrence Pinnell, the club's overall champion in 2018, was the third Horwich finisher at Saddleworth, ensuring a respectable club score. At Worsthorne Moor, there was a fine result for Tony Hesketh as he won the M70 prize in a time that would also have won him the M65 prize.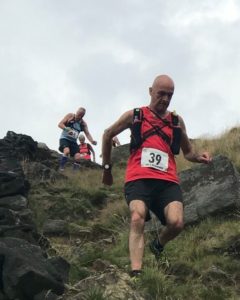 David Barnes at Saddleworth – photo by Gareth Evans
Three Harriers hit the road at Lancaster for the Riverside 10-mile race in stifling humidity and heat and there were notable results for each of them as Richard Howarth took fourth place overall, Erica Booth won the women's prize and Steve Thomasson made another rare running appearance outside the Polar circle or the former Eastern Bloc with a time he was understandably satisfied with in the conditions.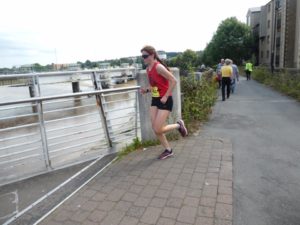 Erica Booth – 1st woman at Riverside 10 mile race – photo by Stephen Perry
It was a good week for the Harriers at parkrun with four first places and three second places. At Pennington Flash, Marsden and Nick Leigh resumed the friendly rivalry they enjoy on the fells and finished first and second in the exact same time, but Leigh had the compensation of recording the best age-graded result of the weekend for a Harrier of 83.85 per cent. There were also first places for Michael Chadderton at Worsley Woods, Joe Mercer at Skipton and Marty Arnot-Smith at Queens Park in Bolton. The next best age-graded results were achieved by Ste Williams (82.46 per cent) at Worsley Woods and Mary White (81.63 per cent) at Haigh Woodland.
Horwich RMI Harriers results: Kentmere Horseshoe fell race – 2nd Phil Marsden 1:35:27, 127th Marcus Taylor 2:20:38, 265th Tony Varley 3:24:32; Beetham Sports fell race – 8th Gareth Booth 40:48; Lee Mill fell race (Bacup) – 2nd Joe Mercer 46:44, 7th Dan Gilbert 51:55; Badger 10k trail race (Cuerden Valley) – 18th David Barnes 45:52; Creag Dhubh hill race (Newtonmore) – 72nd Dan Gilbert 34:09, 124th Mark Walsh 37:36; Riverside 10-mile road race (Lancaster) – 4th Richard Howarth 57:48, 27th Erica Booth 1:13:33, 48th Steve Thomasson 1:22:57; Worsthorne Moor trail race (near Burnley) – 72nd Tony Hesketh 58:26; Saddleworth Round fell race – 32nd Doug Fleming 3:25:06, 51st David Barnes 3:48:24, 65th Lawrence Pinnell 4:28:34.