The brilliance of Sophie and Lukas
Horwich RMI Harriers – report 18th July 2019
by David Barnes
Sophie Walton and Lukas Siska this weekend pulled off two of the best performances the Harriers have had on the national stage. Sophie was at the English Schools Championships in Birmingham, representing Greater Manchester Schools where she ran a strong 200m heat on Saturday before running a stunning race on Sunday clinching the title on the line from Kaliyah Young of Kent. Shaun Walton was a proud father who was quick to recognise the immense contribution of Sophie's coach, Trevor Williams and they are now rewarded with Sophie's selection to represent England at the Schools International Championships in Swansea next week.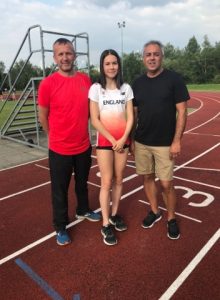 Sophie Walton selected for England seen here with coach Trevor Williams and club chairman Glynne Lever – photo by Janette Bradley
The Harriers are also proud to have had  two representatives for Greater Manchester in Birmingham with Izzy Merritt also in the 300m and one representative for Lancashire with Niall Maloney making the final of the long jump.
Horwich athletes at English Schools championships – photo by Trevor Williams
On Sunday the Harriers were also celebrating Lukas Siska's brilliant 3rd place in his first ever Ironman. Lukas, who represents Slovakia, is a long-standing Horwich member and said that the UK Ironman in Bolton just had to be his first ever ironman and he was elated with the huge support he got around the course. Lukas who is an international triathlete was 2nd after the swim at Pennington Flash and used all of his professional experience in sport to keep a strong and measured pace in the bike ride and then the final marathon along Chorley New Road.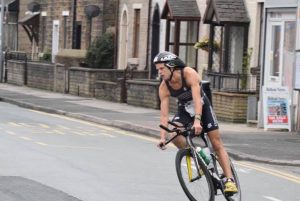 Lukas Siska – 3rd at Ironman – photo by Julian Goudge
Ian Collings and Ian Hamer were Horwich's other representatives in the Ironman. Their assiduous training schedules were rewarded with great performances on a tough new course, respectively 30th of 363 V40 and 20th of 111 V55 competitors.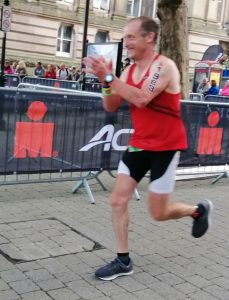 Ian Hamer completes Ironman – photo by Josie Greenhalgh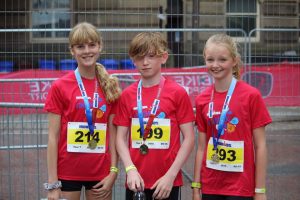 Horwich and Bolton juniors at Ironkids – photo by Janette Bradley
Julie Williamson is a determined ultra sportswoman and has recently completed the Lakeland 100k trail race on a route that includes over 10,000ft of ascent and on this occasion the race had 38 retirements so Julie was rightly pleased with her achievement, including being first F50. Closer to home it was Radcliffe AC's Bull Hill race on Holcombe Moor and the Harriers had a fine evening with Phil Marsden winning the race and leading the Harriers to the team prize with Dan Gilbert and Robert Seddon joining Phil in the 'A' team. Robert fresh from triumph in the Mountain Marathon last week had a clear male junior category win. Suzanne Budgett was first F55. Dan Gilbert and David Barnes then made the trip to the edge of Snowdonia for the Tal y Fan race where Dan got a top ten place on a day when some runners, including David, got lost in unexpected clag on the tops.
Wigan and District Harriers' popular Primary League resulted in another set of medal winning performances for Horwich's juniors at Robin Park including Ryan McCaffery, Aiden McKenna, Alistair Sharrock and Chidera Ajet.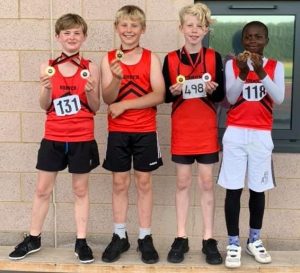 Horwich Juniors at Wigan Primary League – photo by Sara Sharrock
In the older age groups, Toby Middleton and Luke Brindle were honing their race skills in a high quality field at the Trafford AC Grand Prix with 4:16 and 4:20 times in the 1500m. Luke Brindle then got 1st place at Haigh Woodland parkrun with a new personal best of 17:33 beating seasoned senior Alastair Murray into 2nd place. There was also a Horwich one-two at Bolton parkrun with James Scott-Farrington also getting a new PB ahead of Zachary Howe. Erica Booth was 1st woman at Preston and Nick Leigh was 2nd at Richmond.
Lakeland 100k Ultra trail race – 75th Julie Williamson 20:36:25; Sale Sizzler (Wythenshawe) – 31st Michael Chadderton 17:00; 180th Marcus Taylor 20:09; Bull Hill fell race (Hawkshaw) – 1st Phil Marsden 44:37; 6th Dan Gilbert 51:45; 7th Robert Seddon 52:02; 52nd David Barnes 01:05:15; 63rd Tony Hesketh 01:07:30; 67th Mark Seddon 01:08:36; 76th Suzanne Budgett 01:10:29; Ilkley half marathon – 577th Sam Kavanagh 01:53:58;  Warton 10k road race – 13th David Unsworth 46:48; 47th Bernadette Unsworth 56:40; Tal y Fan fell race (Rowen) – 10th Dan Gilbert 01:16:54; 54th David Barnes 02:04:48; Ironman UK Bolton – 3rd Lukas Siska 09:44:52; 202nd Ian Collings 12:19:51; 794th Ian Hamer 14:25:56;