Goudge retains title in popular duathlon
By David Barnes
30th May 2019
JULIAN Goudge retained his title at the popular Ian Hesketh Memorial Duathlon organised by Harriers' junior fell coach Tony Hesketh in memory of his son who died in 2005. Goudge was challenged strongly by fellow Harrier David Jackson over the route of a 22k cycle sandwiched by two 5k trail runs in sunny Rivington weather.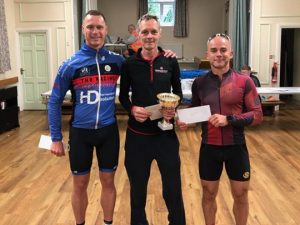 Ian Hesketh Memorial Duathlon winners – photo by Wayne Holden
In Scotland, on the stunning Isle of Jura, there was tougher weather as Harriers' Michael Green joined with Lostock AC friends to complete the 7,500 feet-plus ascent and 16-mile race. And in only slightly better weather in north Wales for the second round of the 2019 British Fell championships at the Ras y Moelwyn race, Danny Hope, who has a great record in these championships, was the top Harrier followed closely by Dan Gilbert in a race with some precipitous contouring across heavy scree slopes.
The two Dans had, earlier in the week, taken third and sixth places at the Blackstone Edge fell race above Littleborough in what may be the final presentation of a popular race. Another much-liked fell race in the North West is at Harrock Hill which attracts ever-larger fields of runners, perhaps tempted by the prizes of assorted vegetables giving this race a unique flavour. Lindsey Brindle continues to produce top results this year and in 16th overall, took the women's first prize – three minutes ahead of the second woman.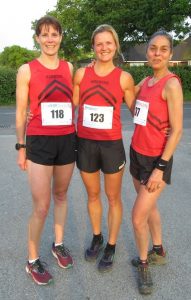 Horwich women at Harrock Hill – photo by David Barnes
Alistair Thornton had his best result in a Harriers vest since joining from Macclesfield by taking second place – only seven seconds behind 2018 series winner Peter Bray, of Chorlton. Andy Lloyd was sixth at Harrock Hill and then got a top-20 finish at Hutton Roof Crags, where Nick Leigh won the race. Leigh has had a great set of results so far this year and maintained the Harriers' record in the Crags race with Hope having won the race in 2017 and Phil Marsden finishing second last year.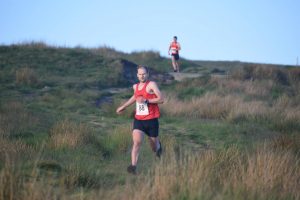 Nick Leigh – photo by Julian Goudge
At Trafford AC, Harriers entered a joint team with Chorley in the North of England track and field event. The combination achieved a respectable fourth place of eight teams in the division and were only two points short of beating Wrexham to third. The best performance by a Harrier was Milly Lever's win in the 3,000m in a time of just more than 11-and-a-half minutes.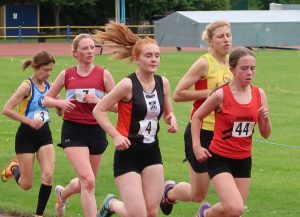 Milly Lever wins at North of England track meet – photo by Simon Townsend
On the road, Harriers women's champion, Kimberley Chadderton, completed her first marathon in the club's vest with an impressive three-and-a-half hour time at the Edinburgh marathon. And the club's men's champion, Lawrence Pinnell, completed the Liverpool marathon – as did Julie Williamson, both having also completed the Ingleborough Challenge marathon the previous week. In parkrun, two juniors had standout results with Marty Arnot-Smith first at Queens Park and Jack Barrago – who was a first-timer at Haigh Woodland – finished ninth.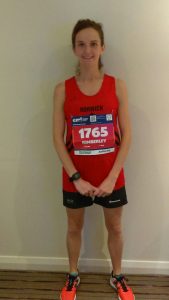 Kimberley Chadderton ready for Edinburgh – photo by Michael Chadderton
Horwich RMI Harriers results: Harrock Hill fell race (Parbold) – 2nd Alistair Thornton 32:02, 6th Andy Lloyd 34:43, 16th Lindsey Brindle 36:50, 74th Erica Booth 43:11, 105th David Barnes 46:03, 121st Suzanne Budgett 47:34; CRO Ingleborough Marathon – 22nd Julie Williamson 6:48:22; Ian Hesketh Memorial Duathlon – 1st Julian Goudge 1:14:44, 2nd David Jackson 1:17:28, 13th Gary Chadderton 1:28:39, 19th Suzanne Budgett 1:29:59, 53rd Emma Collings 1:51:56; Blackstone Edge fell race – 3rd Danny Hope 31:41, 6th Dan Gilbert 32:38, 52nd Rowen Pymm 41:30; Hutton Roof Crags fell race – 1st Nick Leigh 51:49, 17th Andy Lloyd 57:57, 40th Marcus Taylor 1:03:45, 46th Neil Holding 1:06:03; Isle of Jura fell race – 179th Michael Green 5:46:26; Buxton half marathon – 141st Dave Parry 1:50:11; Saddleworth fell race – 33rd David Barnes 34:41; Edinburgh Marathon – 774th Kimberley Chadderton 3:31:11; Ras y Moelwyn fell race (Blaenau Ffestiniog) – 32nd Danny Hope 1:33:29, 54th Dan Gilbert 1:37:07, 193rd Mark Walsh 2:12:22; Liverpool Rock 'n' Roll marathon – 1,715th Julie Williamson 4:26:14, 1,984th Lawrence Pinnell 4:37:31; Austwick Amble fell race – 92nd David Barnes 1:10:19.