Duo lead the way in fell success for club athletes
By David Barnes
6th June 2019
PHIL Marsden and Lindsey Brindle led the way as Harriers returned several fine fell racing results. Marsden won the Wharfedale Trail half marathon and Lindsey Brindle was second woman in the same race to add to an impressive year so far.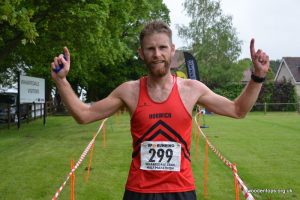 Phil Marsden wins Wharfedale – photo by woodentops.org.uk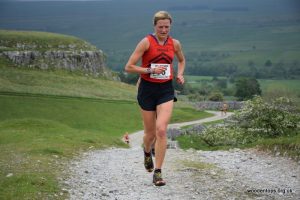 Lindsey Brindle 2nd woman at Wharfedale – photo by woodentops.org.uk
There were also two impressive second places for Dan Gilbert in Rossendale at the Fo(e) Edge race and for Joe Mercer at Edenfield. In the Pen y Ghent race, Graham Schofield emerged from his Kendal Winter League triumphs with a M60 age-category win and Suzanne Budgett was second F55 at Kelbrook. Michael Chadderton was the club's only representative at the British Mountain running championships on an uphill-only course at Skiddaw and in an elite field his 22nd place was another impressive result.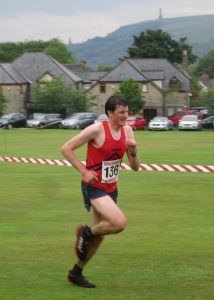 Joe Mercer – 2nd at Edenfield – photo by Sue Fleming
Five Horwich athletes competed as guests at the Mid Lancs competition at UCLAN Preston. The first to race was under-17 Sophie Walton, who won the 100m in 12.3secs, and this was followed with wins for Georgia Heath in the 800m and Toby Middleton in the u17 boys' 1500m. In the u15 girls' section, Isabella Merritt won the 300m in a personal-best time of 42.5 and then ran a good 200m. The only u13 athlete, Pip Nuttall, ran in the 70m hurdles in one of the last events of the day. Out of six events, Horwich athletes got four excellent first places.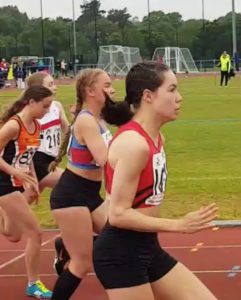 Sophie Walton winning at Preston – photo by Trevor Williams
Last weekend it was the second upper age Youth Development League meeting hosted by Horwich who had nine athletes taking part. At u17s, Niall Maloney won the long jump getting a massive PB, an English Schools qualifying distance and a club record jump of 6.47. Matthew Flatters and Milly Lever had good runs in the 1500m, while Grace Lavin won the high jump with 1.50m. Walton had returned to action after injury, winning the 100m in an English Schools qualifying time of 12.3 and Isaac Parker ran a 23.6 PB winning the 200m.
It was also the second round of the English junior fell championships at Sedbergh and on a tough route, Horwich had 12 juniors involved. The u9 race saw Maddison Wilkinson run well for 23rd and in the u11 category, Megan Elliott showed good ascending for 21st place. In the u13 races, Theo Middleton led the Horwich team with a fine run for 27th place, and for the girls Imogen Andreassen consolidated her fourth place in the championships. Charlotte Vickers was 18th. The u15 boys where led home by Isaac Battye in ninth, with Ben Hall only 35 seconds behind, while the u15 girls saw Charlotte Wilkinson run a superb race for 13th with Emma Bradley almost matching her only four places behind. The sole Horwich runner in the u17s was Toby Middleton who, despite injury, finished seventh and Robert Seddon matched him with a seventh-placed finish at u19s' level.
At the weekend, many Harriers and their families were in the resort of Abersoch for fun and racing and the juniors outshone the seniors in the events run on the beach. In the 3k race, Harrison Stokes was the winner of the u11s age category and Ethan Isaacs was second in the u14 age category. Jack Barrago, Milly Lever and Emma Bradley also got top-10 results in the race. In the 10k race, Marcus Taylor was the top Harrier.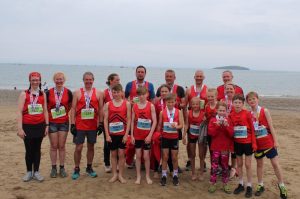 Horwich at Abersoch – photo by Janette Bradley
In parkrun there were two fine results from young Harriers. Luke Brindle was first at Worsley Woods ahead of 514 other runners and Isaac Battye was second at Haigh Woodland.
Horwich RMI Harriers results: Fo(e) Edge fell race – 2nd Dan Gilbert 35:03; Hollingworth Lake 5k road race – 49th Isaline Kneale 21:39; Levens 10k road race – 10th Glyn Kay 38:10; That's So Hebden Bridge fell race – 73rd David Barnes 1:06:36; Pen y Ghent fell race – 56th Graham Schofield 1:02:17, 75th Neil Holding 1:04:15; Kelbrook fell race – 88th Suzanne Budgett 31:50; Wharfedale Trail half marathon – 1st Phil Marsden 1:25:15, 19th Lindsey Brindle 1:41:47; Abersoch Land and Sea 10k – 26th Marcus Taylor 40:03, 152nd Glynne Lever 47:35, 238th Gemma Stokes 51:16, 869th Janette Bradley 1:09:54, 913th Emma Donaldson 1:12:53, 916th Maria Parkinson 1:13:21; Skiddaw uphill (British Mountain Running Championships) – 22nd Michael Chadderton 37:33; Edenfield fell race – 2nd Joe Mercer 44:26, 49th Doug Fleming 1:00:21, 61st David Barnes 1:02:31.