Harriers duo make the grade for finals weekend
By David Barnes
13th June 2019
TWO Horwich youngsters have qualified for next month's English Schools County Championships finals. Despite awful conditions last weekend, Niall Maloney won the long jump at the Lancashire competition in Blackpool with a winning jump of 6.40m and in the Greater Manchester event in Trafford, Sophie Walton triumphed in the 200m in a time of 25.40secs – both achieving the qualifying standard. In total, Harriers had seven athletes competing in Blackpool and nine in Trafford, where Isabella Merritt missed out on the qualifying time of 42.1 by a tenth of a second in winning the 300m in a personal-best time. She has another chance on Saturday in the Masons Trophy at Birmingham.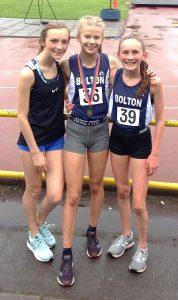 Horwich athletes for Bolton at GM Schools Championships – photo by Ady Merritt
The club's youngest athletes braved the elements on track and field at the Wigan Primary League with several medal-winning performances. And in the junior parkrun at Queens Park, it was a one-two-three for Horwich with Jack Barrago leading home Aidan McKenna and Marty Arnot-Smith. In midweek, at Astley Park, Isaac Battye was the winner in the junior trail race with Joshua Houghton in fourth, while there were category wins for Charlotte Wilkinson (F12) and Isaac Davies (M8).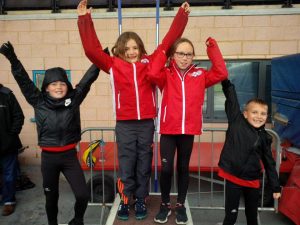 Horwich juniors at Wigan primary League – photo by Paul O'Brien
On the fells, Alistair Thornton achieved his first win in Horwich colours at the Boar's Head race in the Peak District. Eleven Harriers then ran the Leo Pollard Memorial fell race organised by Lostock AC. Nick Leigh maintained his fine form by finishing third behind two former Horwich men, Michael Cayton and Rob Hope. Lindsey Brindle added another women's title to her long roll of honour and there were age-category wins for Suzanne Budgett (F55), Mary White (F65) and Tony Hesketh (M70). Leigh also won the M40 category, which is a very strong age group as shown by Glyn Kay's experience at the Astley Park trail race where he was eighth overall but only the seventh M40. Nevertheless, both Kay and also Steve Williams, at M60, consolidated their series leads in their respective categories.
At Cuerden Valley, in the Badger trail race, there were more age-category wins for David Barnes (M60) and Rudolf Maciejkowicz (M65) and then at the Knowl Hill fell race Tony Hesketh added a second M70 category victory within four days. James Titmuss was fourth at the Edgworth Reservoir Trail 10k and second M40 but Rob Jackson kept his winning record in the race by taking the M50 first prize.
Horwich category winners at Badger Trail – photo courtesy of David Barnes
David Jackson has been quietly building some fine form this year and followed up his second place in the Ian Hesketh Memorial duathlon with second place at the Lakeland Trail half marathon at Coniston. For much of the race there was a leading three-man breakaway and Jackson found that extra bit at the end to enjoy a credible result on an undulating course with 1,300 feet of ascent.
In senior parkrun, Isaline Kneale gained the only first place by a Harrier at Ormskirk. There were second places for Luke Brindle at Sale Water Park, Richard Howarth at Lytham Hall and Phil Marsden at Watergrove.
Intrepid traveller, Steve Thomasson, ran the most northerly half marathon on the globe at Spitsbergen where his fellow runners admired him for his bare knees despite a bitter easterly wind. He got a time of just under two hours despite the elements and a mid-race sprain.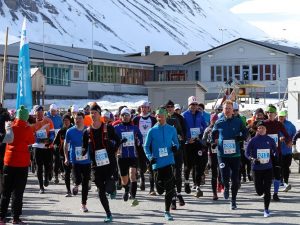 Steve Thomasson at Spitsbergen – photo by Eivind Bye for Runners World
Horwich RMI Harriers results: Welsh 1,000m Long Fell race – 9th Dan Gilbert 4:38:57; Coniston Half marathon – 2nd David Jackson 1:25:22; Astley Park trail race – 8th Glyn Kay 22:06, 25th Steve Williams 24:28, 60th Colin Andreassen 28:11, 89th Emma Collings 33:17; Leo Pollard Memorial fell race (Rivington) – 3rd Nick Leigh 48:44, 6th Julian Goudge 50:57, 13th Dan Gilbert 53:02, 19th Nick Pilling 55:14, 20th Lindsey Brindle 55:23, 423rd Doug Fleming 1:02:59, 82nd Tony Hesketh 1:09:48, 93rd Suzanne Budgett 1:11:37, 110th Mary White 1:17:12, 116th Michael Crook 1:18:50, 122nd Tony Varley 1:22:02; Badger 10k trail race (Cuerden Valley) – 15th David Barnes 46:29, 22nd Rudolf Maciejkowicz 49:01; Weets fell race (Barnoldswick) – 62nd Graham Schofield 51:07; Edgworth Reservoir 10k trail race – 4th James Titmuss 38:53, 9th Rob Jackson 41:44; Knowl Hill fell race – 52nd Neil Holding 58:28, 62nd Doug Fleming 59:41, 90th Tony Hesketh 1:03:34; Surrey Hills fell race – 31st David Barnes 3:51:22.