Harriers flying high with a host of brilliant outings
By David Barnes
20th June 2019
IT has been a busy week around Horwich with the annual Festival of Racing attracting large numbers of athletes, young and old, in running and cycling disciplines. The Harriers have featured with several category wins and the men's team prize at the 5k road race where Luke Brindle had a fine run for third. On Friday Julian Goudge took on the newly-designed Rivington Moor fell race which proved to be a popular and challenging route but he led from start to finish.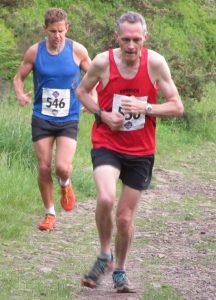 Julian Goudge winning Rivington Moor – photo by David Barnes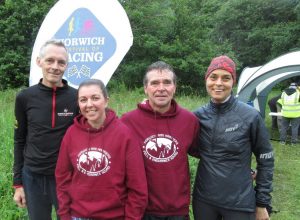 Horwich at Rivington Moor fell race – photo by David Barnes
The previous evening the Harriers' Two Lads fell race had covered some of the same ground and in that Goudge had finished third, behind Phil Marsden. Lindsey Brindle was first woman, crossing in 12th place, having also won the Henderson's End race the previous week. The Harriers' senior fell squad went to Langdale in the Lake District for one of the fell season's classics, the Great Lakes fell race which traverses 13 miles and ascends 6,988ft with a final descent off Blisco that regularly catches out even the best fell runners. It was no surprise this year to see Nick Leigh leading the Harriers home, closely followed by Alistair Thornton who then bravely went the next day to the Settle Hills race which this year is the qualifier for the Snowdon International race. Again, it was no surprise that on top of the previous day's mammoth effort Thornton had to settle for a mid-standings finish.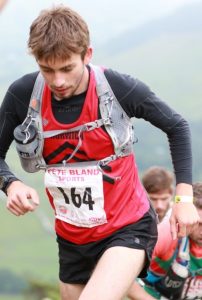 Alistair Thornton in great form – photo by Graham Smith
The juniors have had another fine week as they reap the benefits of regular racing combined with good structured coaching and recovery. Isaac Battye and Ethan Davies demonstrated this at the Festival of Racing's Tour of Horwich, taking first and second in each leg of the junior event, starting with the Liverpool Castle trail race, followed by the Rivington Moor fell race and finally the road race on Sunday.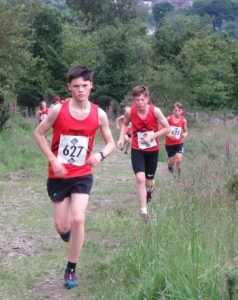 Isaac Battye winning tour – photo by David Barnes
In the inaugural Barbara Ronson Run in the town centre it was great fun for the younger athletes and Harrison Stokes and Gracie Sherbourne enjoyed the huge applause from the crowds for being first boy and girl home.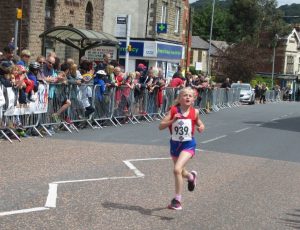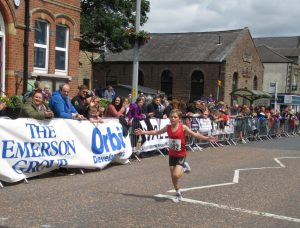 Gracie Sherbourne and Harrison Stokes in Barbara Ronson Run – photos by David Barnes
Podium 5k race, in which Toby Middleton was fourth in the A race and is now ranked 11th at this distance for his age group in the UK. Robert Seddon had a more relaxed race but still turned in a great time and pipped the club's senior, Michael Chadderton, on the line, even though Michael also recorded a personal best at this distance. Matthew Mair showed that he is another junior on an improving trend with a new personal best too. In the B race Lucy Dixon led the race until the closing stages and matched her personal best to give her a UK ranking of eighth for the distance in her age group.
In parkrun, James Jordan was first past the post in Todmorden and there were new PBs for three juniors, Samuel Bradley, Aleks Clayden and Aidan McKenna. Not to be outdone albeit a touch slower, Aidan's dad, Dan also registered a new PB at Stretford. And Aidan then lowered his PB at Queens Park junior parkrun.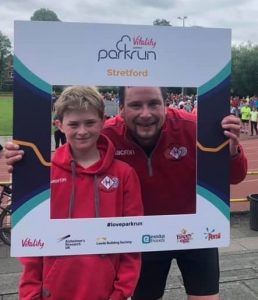 Aidan and Dan McKenna – new parkrun PBs – photo courtesy of Dan McKenna
Horwich RMI Harriers results: Castleton fell race – 2nd Alistair Thornton 44:20; Walsh Two Lads fell race – 1st Phil Marsden 32:01; 3rd Julian Goudge 34:14; 12th Lindsey Brindle 37:59; 15th David Purnell 39:16; 43rd Doug Fleming 43:15; 94th Lawrence Pinnell 50:53; 99th Peter Ramsdale 51:14; 110th Tony Varley 53:30; Barrowford Podium 5k – A race: 4th Toby Middleton 16:25; 15th Robert Seddon 16:51; 17th Michael Chadderton 16:53; 40th Matthew Mair 17:50; B race: 4th Lucy Dixon 18:25; Great Lakes fell race – 35th Nick Leigh 3:01:21; 40th Alistair Thornton 3:02:36; 54th Danny Hope 3:08:26; 88th Dan Gilbert 3:31:12; 159th Alistair Murray 3:54:42; 180th James Titmuss 4:01:46; 268th Marcus Taylor 4:56:09; Settle Hills fell race – 67th Neil Holding 1:08:26; 71st Alistair Thornton 1:10:00; Kettlewell fell race – 26th Graham Schofield 15:39; Horwich 5k road race – 3rd Luke Brindle 17:29; 4th Glyn Kay 17:55; 13th Steve Williams 19:53; 16th Simon Vaughan 20:05; 21st Rudolf Maciejkowicz 21:21; 23rd Steve Thomasson 22:15; 24th Suzanne Budgett 22:15; 25th David Barnes 22:30; 31st Colin Andreassen 23:13; 38th Tony Varley 24:59; 41st Mary White 25:30.