Bolton pair take top two spots at Rivington race
By David Barnes
27th June 2019
BOLTON United Harriers secured a win double in Horwich's Jubilee road race – part of the Central Lancashire Grand Prix Series – in Rivington. Anthony Valentine beat Leigh's Neil Pendlebury by 16 seconds for the men's prize, while Laura Lombard made it a double for Bolton, winning the women's prize ahead of Horwich's Lindsey Brindle. Richard Howarth was Horwich's top finisher and won the M45 category prize, while Ste Williams and Rudolf Maciejkowicz won their M60 and M65 categories. In the team competition, Radcliffe took the men's prize and there was a close race for the women's prize with Swinton, Chorley and Burnden separated by only one point.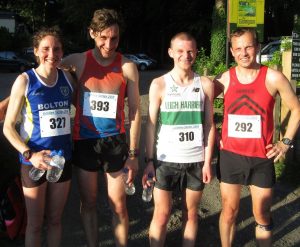 Jubilee winning female & male + 2nd man + 1st Horwich – photo by David Barnes
The following night across the West Pennine Moors the Aggie's Staircase fell race took place and Joe Mercer followed up his top-three place at Edenfield two weeks earlier, with another top-three finish. Dan Gilbert was also fifth on the fells at Brown Wardle, taking the M40 prize.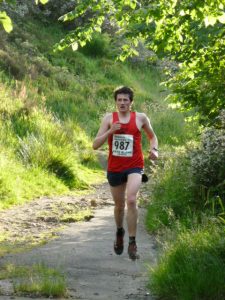 Joe Mercer 2nd at Aggies Staircase – photo by Chris Cooper
The junior fell squad had a good day out in Bowland last weekend at Clougha Pike, which this year was an English championship race. The top performer was Isaac Battye followed by Ethan Isaacs and Charlotte Wilkinson and Emma Bradley in the under-15 race. Samuel Bradley and Imogen Andreassen also had top-10 results in the u13 race.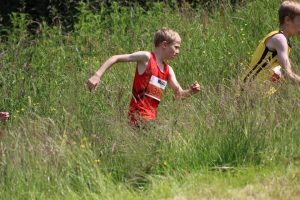 Samuel Bradley at Clougha Pike – photo by Victoria Wilkinson
The club's young athletes are also excelling in track and field and for the first time Horwich won a Northern League competition in combination with Chorley. The seven Horwich athletes achieved four wins, four personal bests and two club records with Sophie Walton in sparkling form to take the 100m and 200m sprints to set club record times of 12.1secs and 24.8. Grace Levin and Brandon Kerr won the high jump competitions and Matthew Flatters warmed up for his win in the midweek Street race with a good run in the 1500m. Also on the track, but in the Northern Masters championships at Bury, Rob Jackson continued to collect the podium places with silver medal performances in the 1500m and 3,000m.
The Street races are the curtain raiser for the Jubilee race and Lucy Dixon was first female home to make it a double for the Harriers with Matthew Flatters. In the younger age-group race, Samuel Bradley was the first Harrier home in fourth place behind Matthew Smith, the winner from Blackburn.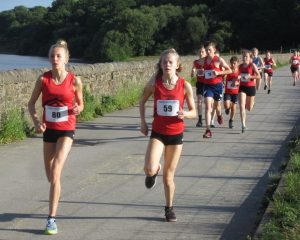 Lucy Dixon & Isabella Merritt – 1st & 2nd female in Street race – photo by David Barnes
In the latest Youth Development League meeting at Leigh, the Harriers had a 19-strong squad competing. Pip Nuttall and Jessica Parker opened with wins in the 75m hurdles and Alistair Sharrock and Josh Topham won both the A and B long jump competitions. The day ended with the u13 boys finishing third in the 4×100 relay. In between, there were excellent performances all round as Isabella Merritt won the 200m, Harrison Stokes won the 75m hurdles and Ethan Ingram won the u15 boys' long jump. Freya Whittle took four seconds off her previous PB in the 800m and the squad ended the day with 21 PBs. The team finished in third place, just missing out on second by four points.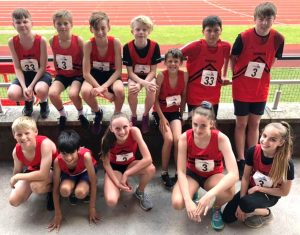 Horwich squad at Leigh YDL fixture – photo by Gemma Stokes
In parkrun, Marcus Taylor – at Bolton – got his first ever first place in all parkruns after previous near misses and James Jordan followed up his first place at Todmorden with first place this week at Watergrove. Marty Arnot-Smith was first named runner home at Queens Park junior parkrun.
Horwich RMI Harriers results: Paddy's Pole fell race (Bowland) – 67th David Barnes 41:17; Brown Wardle fell race (Whitworth) – 5th Dan Gilbert 28:29; Horwich Jubilee Series road race – 6th Richard Howarth 28:33, 24th Marcus Taylor 31:35, 26th Lindsey Brindle 31:41, 39th Kimberley Chadderton 33:29, 40th Ste Williams 33:40, 45th Sean McMyler 34:09, 48th Gary Chadderton 34:18, 57th Doug Fleming 35:00, 59th Chris Essex Crosby 35:15, 86th Steve Thomasson 37:59, 90th Rudolf Maciejkowicz 38:18, 118th Lawrence Pinnell 41:17, 142nd Emma Collings 45:31; Hawkswick Dash (Littondale) – 19th Graham Schofield 15:27; Aggie's Staircase fell race – 2nd Joe Mercer 29:17, 11th Mark Walsh 33:25, 23rd Neil Holding 37:25, 46th David Barnes 43:36.