Club's teams shine at the Witton Park relays
By David Barnes
4th July 2019
HORWICH scored a one-two at the Witton Park relays in Blackburn as two teams came out on top out of a big field of 129 teams. Harriers had six teams competing where teams run three legs of two-and-a-quarter miles with 492 feet of ascent. The not-so-young Horwich Young Guns team of Nick Leigh, Phil Marsden and Alistair Thornton came out on top with the not-so-old Horwich Old Gits coming in second ahead of strong competition from Blackburn, Barlick and Ribble Valley. Marsden and James Kevan also had the top two individual times on the night.
There were also great team and individual performances from the four Harriers' teams made up from the club's young athletes with especially strong runs by Toby Middleton, Luke Brindle, Charlotte Wilkinson and Eva Baldwin.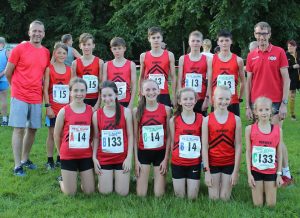 Horwich juniors at Witton Park relays – photo by Victoria Wilkinson
At Harrock Hill, Andy Lloyd was Horwich's top runner in sixth place. Suzanne Budgett won the L55 category and Tony Varley took the M70 prize. The same night the Eddie's Revenge fell race in the Run the Moors series took place on the far side of Greater Manchester. Dan Gilbert had another top-five finish and was first M40, while Gary Chadderton is steadily returning to form with a second place in the M55 category.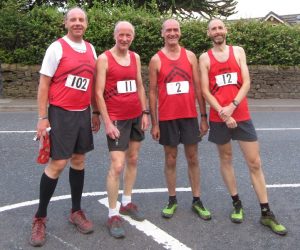 Horwich at Eddie's Revenge – photo courtesy of David Barnes
Ian Conroy is heading for the Snowdon International race this month where he will represent Ireland in this prestigious event. Last week it was the Snowdon Twilight event which is uphill only and provides the international race entrants with an opportunity to check out their current form. Conroy is looking in excellent form as he finished strongly in third place in 45mins 59secs to the top of the mountain.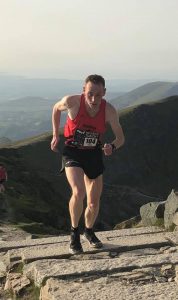 Ian Conroy at Snowdon Twilight – photo by Jim Davis
The regular Trafford AC track and field events attract a quality field and for the first time there were three Horwich under-17 athletes competing, including Sophie Walton and Niall Maloney, who will both be heading for the English Schools' Championships in Birmingham this month. Maloney was well below his personal best in the long jump and will be pleased to have got that performance out of the way. But Walton continues to go from strength to strength and was surprised to be drawn to race against the u20 and senior men in both the 100m and 200m. In the 200m, she pulled out an amazing performance to beat the men in a personal-best and club-record time of 24.67. Nathan Hargreaves was also racing and got a good time and valuable experience on the outside lane in the 400m heats.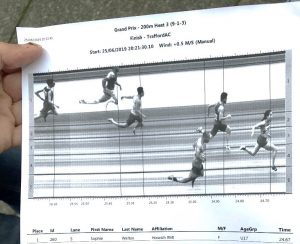 Sophie Walton's photo finish at Trafford 200m – photo by Trevor Williams
Rob Jackson took the M50 prize in Radcliffe's Rhodes and Norris race and joined his father Robert in presenting the trophy in his late mother Brenda's name for the first vet lady winner – Jan Needham of Rochdale.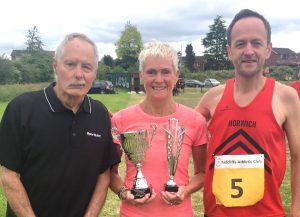 Rob Jackson at Radcliffe 5k – photo by Karen Doherty
Steve Thomasson got a second personal best of 2019 at the Manchester 5k, having got a PB in the Warsaw half marathon, both five years after previous PBs. Gareth Booth was in the runners-up team at Witton Park then took fifth place at Trawden.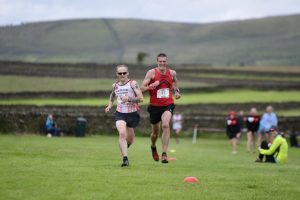 Gareth Booth at Trawden 7 – photo by David Belshaw
Two young athletes also followed up their Witton Park exploits with fine performances on other terrain. Middleton was second at the Kirkby Gala u17 fell race and Emma Bradley was first female at the Abersoch Beach Blast 1k race.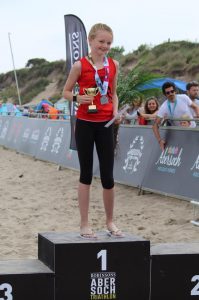 Emma Bradley winner at Abersoch – photo by Janette Bradley
In parkrun, there were first places for Lukas Siska, Robert Seddon, Isabella Merritt, Glyn Kay and Aleks Clayden.
Horwich RMI Harriers results: Trevor Milner Riber fell race – 65th David Barnes 45:12; Harrock Hill fell race – 6th Andy Lloyd 35:39, 15th Glyn Kay 37:12, 98th Suzanne Budgett 47:21, 151st Tony Varley 53:46; Eddie's Revenge fell race – 5th Dan Gilbert 26:44, 31st Gary Chadderton 31:04, 63rd David Barnes 34:35, 86th Lawrence Pinnell 38:40; Witton Park relays – Phil Marsden 14:22, James Kevan 14:40, Nick Leigh 14:50, Alistair Thornton 15:07, Gareth Booth 16:00, Toby Middleton 15:24, Luke Brindle 15:47, Isaac Battye 16:55, Ethan Isaacs 19:02, Ben Hall 17:42, Harvey Kenny 17:42, Milly Lever 20:22, Charlotte Wilkinson 18:29, Eva Baldwin 18:40;, Emma Bradley 19:53, Imogen Wrigley 23:59, Imogen Andreassen 19:58; City of Manchester 5k – 32nd Steve Thomasson 21:35; Kikby Gala fell race – 46th Jason Middleton 58:49; Rhodes and Norris Memorial 5k – 6th Rob Jackson 18:51; Trawden 7-mile trail race – 5th Gareth Booth 42:47, 49th Marcus Taylor 49:21, 123rd David Barnes 55:42.