Seddons make mountain victory a real family affair
By David Barnes
11th July 2019
FATHER-and-son team Mark and Robert Seddon had their second big mountain marathon win of the year at Carrock Fell in the Lakes. After a great first day they did enough on the second to win by just three minutes in a tough test of stamina and navigation.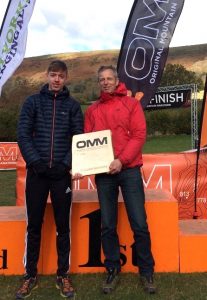 Mark & Robert Seddon winning at an earlier mountain marathon – photo courtesy of Mark Seddon
Also on the fells, in the fourth of the six-race English fell championships, Phil Marsden was the top Harrier as Nick Leigh had a good second half of the race to almost catch Marsden on the last descent. Leigh is now in the top five for the race to the M40 prize.  There was also a M70 win for Tony Hesketh at Up The Nab.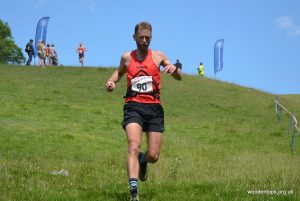 Phil Marsden – top Harrier at Blackfell – photo by woodentops.org.uk
There were three impressive road-racing results with Rob Jackson taking the M50 prize for the third year in a row in the City of Manchester 10k, finishing 35th out of 1,372 runners. Julie Williamson also had a good run in this race in the top third of her category.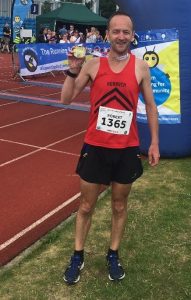 Rob Jackson – 1st M50 at Manchester 10k – photo courtesy of Rob Jackson
Meanwhile, in the Ashbourne half marathon, Richard Howarth was 10th overall in a race that doubled as the British Masters Championships in which he finished seventh to gain a season's-best time at the distance. James Jordan made it a good week on the road with a strong fourth place in the Rochdale 10k.
On the trails, Alistair Thornton and Gareth Booth were third and fourth, respectively, at Astley Park, separated by only seven seconds. Steve Williams was second M60 at the same race, while Horwich's men's team were second behind Chorley. Earlier in the week was the third race in the inaugural Cutacre 5k series, which surprised the organisers with a big turnout in what is already a popular race. Ed Swift was the first M70 as Neil Wilkes led the five Harriers home.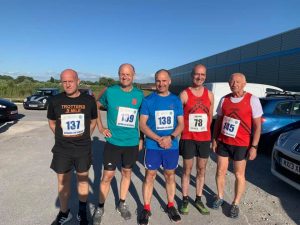 Horwich at Cutacre 5k – photo courtesy of Andrew Storey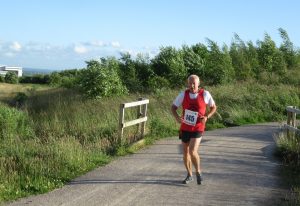 Ed Swift at Cutacre 5k 1st M70 – photo by David Barnes
At the Stockport Quadrathlon Championships, under-13 Pip Nuttall was in a field of 39 competitors and achieved four new personal bests in the long jump, 100m, shot put and then a great win in the 800m lifted her to sixth place, six points off fourth place with 232 points – a new club record.
It was also the third Upper Youth Development League competition and Horwich's six athletes competed with success. Niall Maloney won the long jump for u17s, Isaac Parker had a PB in winning the u20s' 400m, Nathan Hargreaves ran a PB in the 200m, while Luke Brindle ran a good 4mins 37secs in the 1500m. In the u17 girls' races, Sophie Walton did the sprint win double again with another PB in the 200m, claiming a new club record, and Alisa Chuckwu ran a PB in the 100m.
There were 25 Horwich juniors at the Astley Park races and 12 at the Up the Nab fell races. At Astley Park, Isaac Battye and Ethan Isaacs were first and second, and there were category wins for Harvey Kenny, Emma Bradley, Imogen Andreassen and Isaac Davies. Meanwhile, at Up the Nab, Andreassen was fourth female in the u13 race and Charlotte Wilkinson was fourth female in the u15s.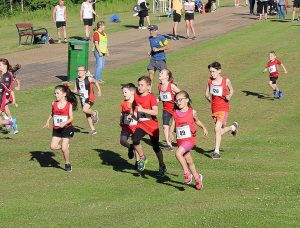 Horwich juniors at Astley Park – photo by Victoria Wilkinson
Marty Arnot-Smith was first at the Queens Park junior parkrun, while there were senior parkrun first places for Luke Brindle (Bolton), Lukas Siska (Worsley Woods), James Jordan (Watergrove), Glyn Kay (Haigh Woodland) and Suzanne Budgett (Sale Water Park).
HORWICH RMI HARRIERS Results: Cutacre 5k trail race – 17th Neil Wilkes 24:13, 19th Geoff Leech 24:20, 22nd David Barnes 24:38, 41st Andrew Storey 26:59, 86th Ed Swift 41:26; Rochdale 10k road race – 4th James Jordan 35:22; Stoodley Pike Fell race – 119th David Barnes 27:54, 161st Lawrence Pinnell 30:40; Astley Park trail race – 3rd Alistair Thornton 21:00, 4th Gareth Booth 21:07, 23rd Steve Williams 24:35, 95th Emma Collings 33:19; Badger 10k trail race – 24th David Barnes 46:17; Lakeland Mountain Marathon (Carrock Fell) – 1st Mark Seddon and Robert Seddon 10:39:35; Blackfell fell race – 11th Phil Marsden 1:19:45, 12th Nick Leigh 1:19:53, 102nd Andy Lloyd 1:35:04, 109th Mark Walsh 01:35:52, 144th Graham Schofield 01:44:28; Heptonstall Festival fell race – David Barnes 1:23:04; City of Manchester 10k – 35th Rob Jackson 38:13, 703rd Julie Williamson 56:55; Blackpool 10k – 136th Geoff Leech 55:16; Up The Nab fell race (Glossop) – 14th Tony Hesketh 38:35; Ashbourne half marathon – 10th Richard Howarth 1:20:00; Hathersage Gala fell race – 123rd David Barnes 43:44.