Success for seniors and juniors at Jubilee race
By David Barnes
23rd May 2019
THE first of Horwich's three-event Jubilee road race series saw age-category wins for Harriers David Unsworth (M55), Steve Williams (M60) and Rudolf Maciejkowicz (M65). Glyn Kay was the top Harrier in 13th place and Erica Booth was second female under-35. Blackburn Harrier Ben Fish finished first, nearly a minute and a half ahead of Leigh's Neil Pendlebury in second, while Blackburn's Annabel Ralph was first woman followed by Katherine Klunder, of Chorley. But Blackburn's men were pushed hard to win the team prize with Wigan Phoenix only six points behind them. Chorley beat Burnden Road Runners in the women's team competition.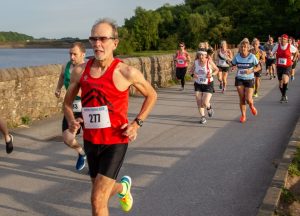 Rudolf Maciejkowicz 1st M65 at Jubilee – photo by Emma Donaldson
The junior street races preceded the seniors' race and saw a great turnout of 86 young athletes. The course record was broken by both Matthew Flatters and Toby Middleton in first and second places, while Lucy Dixon and Isabella Merritt were first and second females. Lois Bowl was first under-13 girl in race one and Isobelle Wilkinson was second u11. Dixon then went on to the Christleton 5k road race in Cheshire, and there were impressive first, second, third and fifth places for Horwich's young female athletes with Dixon in first followed by Eva Baldwin, Georgia Heath and Hannah Camden. Gareth Booth was in action again and, despite an impressive 16:38 time, could only get 71st place and was pushed to that by Robert Seddon running as an u20 who was one second behind. Luke Brindle and Matthew Mair also ran in the u20 category and recorded fast times.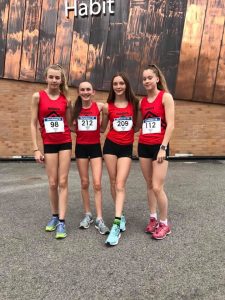 Horwich 1st, 2nd, 3rd & 5th at Christleton – photo by Andy Townsend
The Great Manchester 10k road race attracted 30,000 runners but only two Harriers with Rob Jackson maintaining his fine record in the race in a top 150 place and fifth in the M50 age category. Jackson was also pleased to shake the hand of the winner, Jacob Kiplimo, the Olympic champion from Uganda. Tony Hesketh was the other Horwich competitor and he also organised the team of 12 Horwich marshals who helped make the race go well with a seven-hour stint near the finish line.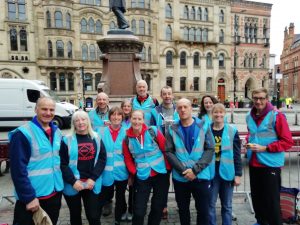 Horwich marshals at Great Manchester 10k – photo courtesy of Geoff Leech
In the second round of the Youth Development League at Hyndburn, Harriers had a big turnout of young athletes and it paid dividends as they earned the club second place behind Leigh and ahead of Chorley. Standout performances among many fine results came from Pip Nuttall and Daniel Djambi. Pip won the u13 70m sprint and the high jump and was joined by Alexandra Freeman, Emma Bradley and Emily Tweddle to take second place in the 4x100m relay. Daniel was in the winning boys' u13 relay team with Jake Mayor, Harvey Kenny and Alistair Sharrock, having already taken first place in the 200m and second in the 100m. The following day at the Queens Park junior parkrun it was a one-two-three-four for Horwich with Aidan McKenna in first place and Lucas Collings second.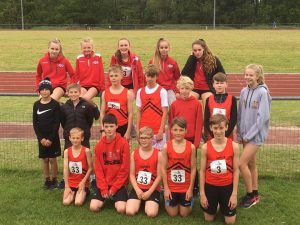 Horwich at Hyndburn YDL – photo by Janette Bradley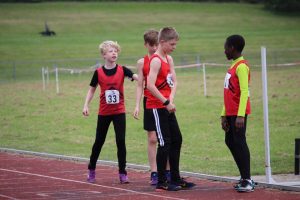 Horwich u-13 boys ready for relay win in the YDL – photo by Janette Bradley
Horwich RMI Harriers results: Jubilee road race (Rivington) – 13th Glyn Kay 30:31, 30th Steve Williams 33:41, 35th Erica Booth 34:34, 40th David Unsworth 35:01, 51st Rowen Pymm 36:30, 68th Rudolf Maciejkowicz 38:36, 82nd Colin Andreassen 39:43, 85th Lawrence Pinnell 40:44, 106th Luke Hutchinson 44:55; Mearley Clough fell race – 7th Dan Gilbert 34:11; Christleton 5k road race – 71st Gareth Booth 16:38, 72nd Robert Seddon 16:39, 83rd Luke Brindle 16:51, 129th Matthew Mair 18:01, 147th Lucy Dixon 18:25, 194th Eva Baldwin 19:21, 218th Georgia Heath 19:41, 235th Hannah Camden 20:05; Pilling 10k road race – 15th Marcus Taylor 39:25, 54th Lawrence Pinnell 48:19; Great Manchester 10k road race – 152nd Rob Jackson 37:46, 3,451st Tony Hesketh 51:31; Chester half marathon road race – 2,146th Laura Butcher 2:02:44; Sowerby Scorcher 10k multi-terrain race – 34th David Barnes 50:31.