Spring training pays off for Booth in two races
By David Barnes
16th May 2019
HORWICH RMI Harrier Gareth Booth notched a second and third place in a matter of days as club runners benefit from spring training schedules. Booth took third place at Haigh Hall in midweek, then went one better with second in the Chorley 10k on Sunday. At Haigh Hall there was a good team result as Booth was joined by James Jordan, Glyn Kay and Tony Hesketh to take third place.
Gareth Booth 2nd at Chorley – photo by Rachael McKenna
Nick Leigh is also a Harrier piling up good results and after a top-10 finish at the Three Peaks race two weeks ago, last weekend he ran another tough 'A' grade long fell race at Pendle Clough and finished second – just a second behind winner, Iain Embrey. The Pendle Clough race is a counter in the Run the Moors Grand Prix, so his second place, Dan Gilbert's ninth and Doug Fleming and Lawrence Pinnell's results helped the Harriers' standing in this competition. Also on the fells, Alex Fowler had a fine fourth place at Pinhaw which attracted a record field of 256 runners. At Flower Scar in Yorkshire, Alistair Thornton was Horwich's only representative at the Inter Counties fell championship where he had a good 36th place.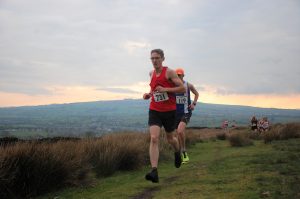 Alex Fowler at Pinhaw – photo by Mick Fryer
Another Harrier compiling a series of results is Isaline Kneale, who was first F50 at the second in the three-race series of Hollingsworth 5k road races. In doing so she has strengthened her claim to top spot in the age category for the series. Then, last weekend, she joined with Lindsey Brindle and Suzanne Budgett to take part in the 19-mile trail run from Bibby's Farm Scout Camp at Heath Charnock. Sandra Kelly was first F50 at the Malhamdale trail challenge, a half marathon with 1,600 feet ascent in what is reputed to be one of the best National Trust secret trails.
The Greater Manchester and Lancashire County Championships were held at Leigh and Blackpool over the weekend. At the GM event on Saturday, under-20 Isaac Parker and u17 Nathan Hargreaves ran 400m and both just finished outside of the medals. Georgia Heath, at u15, finished second in the 1500m and the two u13 girls had a good day with Emma Bradley in the long jump and running a personal best in the 800 metres, while Pip Nuttall came away with two bronze and one silver medal.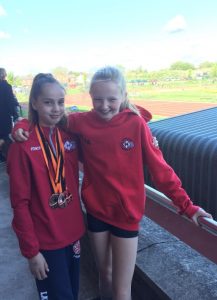 Pip Nuttall & Emma Bradley at GM County champs – photo by Katie Lever
On the Sunday, senior Ola Abidogun ran the 100 metres in 11.47secs, finishing third. At Blackpool, u15 Isabella Merritt ran the 300m final, finishing second with a PB time of 43s. The following day she ran a heat and then a final in the 800m where she gained the bronze medal.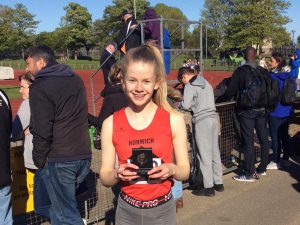 Izzy Merritt medalist at Lancs champs – photo by Ady Merritt
The Wigan Primary League for the younger juniors saw a big turnout with standout results from Chidera Ajet (first in 150m and long jump), Ryan McCaffery (first in shot and high jump), Megan Atkinson (first in javelin) and Alice Arrowsmith (second in long jump and 150m).
In parkrun, Richard Howarth was first at Cuerden Valley and James Jordan was second at Watergrove near Rochdale. Aleks Clayden and Marty Arnot-Smith were first and second at Queens Park and Isobel Wrigley was first female.
Horwich RMI Harriers results: Haigh Hall race – 3rd Gareth Booth 24:45, 6th James Jordan 25:13, 8th Glyn Kay 26:00, 65th Tony Hesketh 34:03, 86th Julie Williamson 37:53; Hollingsworth 5k – 33rd Isaline Kneale 21:18, 41st Rowen Pymm 22:05; Pinhaw fell race (Earby) – 4th Alex Fowler 31:58; Flower Scar fell race – 36th Alistair Thornton 59:16; North Bolton Runners Spring 10k – 110th Kristina Mountain 1:11:18, 111th Justine Topping 1:11:18; Montane Trail 26 (Howgills) – 56th Simon Vaughan 5:03:17; Pendle Clough fell race – 2nd Nick Leigh 2:13:13, 9th Dan Gilbert 2:31:18, 62nd Doug Fleming 3:13:17, 100th Lawrence Pinnell 4:30:06; Buttermere Sailbeck fell race – 127th David Barnes 2:54:46; Blacksticks 10k road race (Preston) – 219th Maria Parkinson 1:06:47; Chorley 10k road race – 2nd Gareth Booth 34:53, 55th David Unsworth 45:08, 275th Bernadette Unsworth 53:57, 375th Luke Hutchinson 57:10, 636th Kristina Mountain 1:05:07, 637th Justine Topping 1:05:08, 751st Dan McKenna 1:08:52; MalhamdaleTrail Challenge – 40th Sandra Kelly 1:59:56.