Thornton shows his class with record-breaking win
By David Barnes
9th May 2019
HORWICH fell runner Alistair Thornton had two fine results in Cheshire with a second place at Rainow and then a course record-breaking win at the Bollington Three Peaks race. Danny Hope has had many wins in his fell-running career and international honours, too, so it was no surprise to see him at the head of the field in the Great Hameldon race at Accrington – the first fixture in the Pendle and Burnley 2019 Grand Prix. Hope had left his Horwich vest with brother Rob at the Pike race and promises to recover it for his next race outing.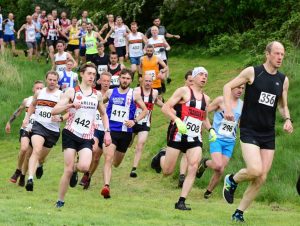 This week also saw the first of the series of four Astley Park Trail races in Chorley over an interesting new course that feels faster as it runs down the big hill rather than up. It certainly favoured Glyn Kay who finished third and held off some strong competition to win the M40 category. Steve Williams is also on course to win the Astley Park M60 category series with a first win under his belt there.
Emma Collings ran at Astley Park warming up for the Horwich Triathlon, following husband Ian's international duathlon feats the previous weekend. Several Harriers compete for tri clubs and took part in the Horwich event but Geoff Leech was the only one entered as a Harrier and had a creditable performance, having more recently concentrated on pace-making road races. Tony Hesketh, who coaches the junior fell squad and has his own organised duathlon coming up soon, achieved his 70th race in his 70th year at the Yarrow Valley race.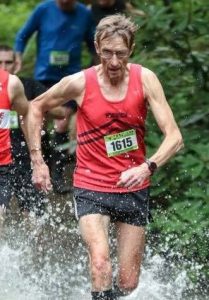 The first 2019 Youth Development League (Upper) fixture was at Blackburn and Horwich's squad of 12 athletes came away with five first places and five personal bests. Niall Maloney got Horwich off to a good start by winning the under-17 long jump with a 5.83m jump. The boys' relay team of Nathan Hargreaves, Brandon Kerr, Isaac Parker and Danny Lavin rounded the day off with another win. Coach Trevor Williams said in between there were many excellent performances from every squad member. Other first places were achieved by Georgia Heath in the 800m, Lavin in the 200m and Matthew Mair in the 800m. Milly Lever also achieved a second place in the 800m A race.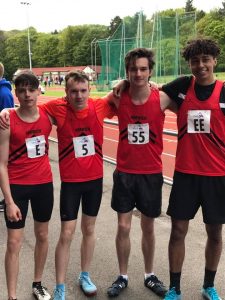 Horwich fielded 26 young athletes at the Astley Park trail race and there were age-category wins for Isaac Battye (M13), Charlotte Wilkinson (F12) and Isaac Davies (M8) with second places across the categories from Ethan Isaacs, Freya Whittle, Emma Bradley, Imogen Andreassen and Lois Bowl.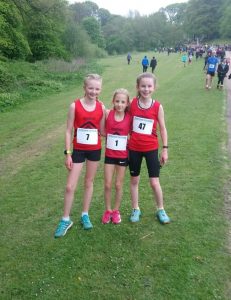 Last weekend several of this squad took part in the latest round of the English junior fell championships at the Coiners race in West Yorkshire. Battye and Isaacs were seventh and 15th respectively, at u15s and Robert Seddon was sixth in the u19 race after a second place at Bolton parkrun on Saturday.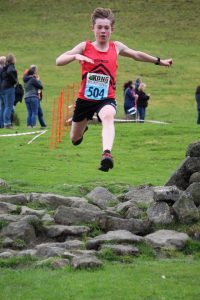 At parkrun there were also two first places, for Richard Marlton (Millom) and Aidan McKenna (Queens Park).
Horwich RMI Harriers results: Orchan Rocks fell race (Todmorden) – 4th Dan Gilbert 24:51; Rainow 5 fell race (Macclesfield) – 2nd Alistair Thornton 32:42; Astley Park trail race (Chorley) – 3rd Glyn Kay 22:16, 19th Steve Williams 24:41, 42nd Ronnie Isaacs 26:56, 60th Colin Andreassen 28:14, 71st David Barnes 29:17, 86th Emma Collings 32:48; John Purdy Memorial 5k (Whitworth) – 13th Rob Jackson 18:14; Hollingworth Lake 5k – 28th Isaline Kneale 21:22; Bollington Festival Three Peaks fell race – 1st Alistair Thornton 36:45; Coniston fell race – 36th Dan Gilbert 01:26:19;Liverpool Spring 10k road race – 188th Neil Holding 42:16; Great Hameldon fell race (Accrington) – 2nd Danny Hope 39:35, 40th Graham Schofield 46:46, 108th David Barnes 53:28; Wray Caton Moor fell race – 40th Gary Chadderton 51:21, 54th Doug Fleming 54:30, 76th Suzanne Budgett 59:22; Yarrow Valley 10k trail race – 27th Tony Hesketh 53:33, 43rd Michael Salmon 57:23, 44th Linda Webb 57:23.