Trio led by Leigh make the Three Peaks top 20
By David Barnes
2nd May 2019
THREE Harriers finished in the top 20 out of a field of 670 at the famous Three Peaks fell race in Yorkshire. Nick Leigh was the leading club runner in ninth place, four seconds ahead of Phil Marsden, while Alistair Thornton goes from strength to strength in his first fell season in Harriers' colours, finishing 20th.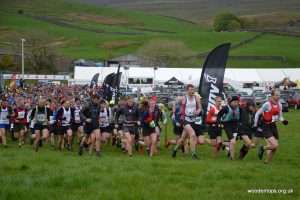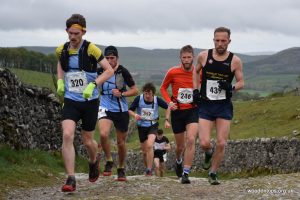 The following day at the Kinder Downfall race, the latest fixture in the Run the Moors Grand Prix, Dan Gilbert was 12th and yet was still only the fifth MV40 finisher. Gary Chadderton, returning from injury, also had a good run in 59th place. At the Blakey Blitz race on the North York Moors, in which nearly half of the runners were over 50, David Barnes was 76th.
Meanwhile, eight Harriers juniors travelled to Carlisle for the first 2019 fixture of the Youth Development League competition for the under-13s and u15s. The Horwich athletes competed in 22 events, gaining 11 new personal bests. The first event of the day saw u13 Pip Nuttall win the 70m hurdles in 12.2 – a new PB. Alistair Sharrock, in his first YDL competition, gained three second places – pipped at the post in both the 100m and 200m. Another superb 100m race was run by u15 Isabella Merritt who ran a massive PB and, like Alistair, was just pipped at the post.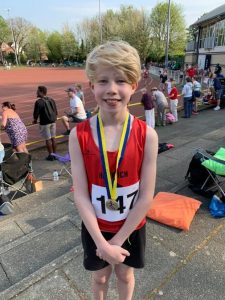 Earlier in the week, Alistair and Isabella had also competed at the Trafford Medal Open event where Alistair got two sprint first places. Isabella then took second place at the Queens Park junior parkrun. Eva Baldwin won the Stanwick 2k u15 race earlier in the week and was second in the 1500m at Carlisle.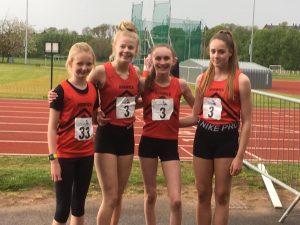 In London, Horwich's marathon specialist Richard Howarth had a great run to finish 557th of the many thousands taking part. Julian Goudge, who is more of an endurance/triathlon specialist, demonstrated versatility turning in a time of just over three hours.
On the international scene, Ian Collings was selected for Great Britain in the World ITU Sprint Duathlon at Pontevedra in Spain and duly turned in a competitive performance in the MV40 category, finishing 32nd of 45, following a format of run-bike-run, with a particularly strong third leg of the race. Collings only did his first triathlon in 2017 and he said the GB team experience was fantastic.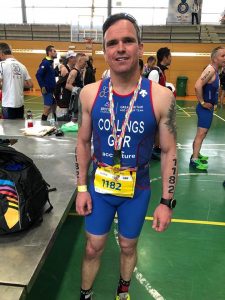 Meanwhile, Steve Thomasson continued his globetrotting in search of road-racing experiences and this time was in Dubrovnik for the half marathon where he clocked a respectable time of 1hr 46mins, despite walking the last kilometre on the hilly terrain.
Horwich RMI Harriers results: Three Peaks fell race – 9th Nick Leigh 3:05:53, 10th Phil Marsden 3:05:57, 20th Alistair Thornton 3:17:20, 97th Mark Walsh 3:49:38, 468th Marcus Taylor 4:47:18, 505th Colin Rigby 4:52:38; Kinder Downfall fell race – 12th Dan Gilbert 1:20:39, 59th Gary Chadderton 1:31:15; London Marathon – 557th Richard Howarth 2:42:36, 2,541st Julian Goudge 3:02:59; Blackpool Festival half marathon – Stuart Bolton 1:48:33; Blakey Blitz fell race – 76th David Barnes 2:03:09.