Leigh and Booth scoop first places on fine day
By David Barnes
25th April 2019
IT was a big week for racing in Horwich with Mad Bull's midweek Curley's 5k series coming to a conclusion with a race triumph by Nick Leigh and a first place for Erica Booth in the women's race. Glyn Kay sealed second place overall in the three-race series and there were also series age-category wins for Isaline Kneale, Linda Webb, Gail Maxfield, Kay and Steve Williams.
After the Curley's event, it was on to the club's iconic Rivington Pike race with a history going back more than 120 years. This year there were entrants from more than 70 clubs and a hot day saw long lines of spectators all the way up to the Pike.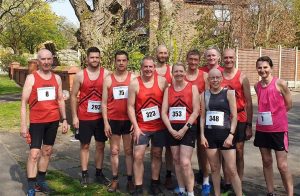 Some of the Harriers at the Pike race – photo by Derek Whittle
They witnessed some fine fell racing as Daniel Haworth, of Matlock, had a clear lead over Michael Cayton, of Ribble Valley, and Ben Bergstrand, of Middlesbrough, at the top before Cayton put on a superb display of descending to go one better than last year when, as a Horwich runner, he had finished second. Sarah McCormack, of Ambleside, finished 11th overall to win the ladies' trophy, while Daniel Haworth, who also went one better than last year, won the Cyril Hodgson Trophy for the first runner to the tower – named in honour of the Harriers' stalwart who as well as being club chairman in the 1960s marshalled the Pike race at the top for more than 30 years.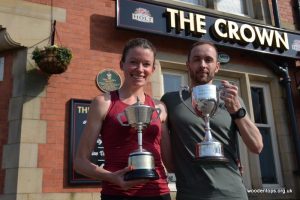 The Pike Race winners – photo by woodentops.org.uk
Isaline Kneale repeated her success from last year when running for Burnden to win the F50 category – this year in Horwich's colours – but was 2½ minutes behind Janet Rashleigh who won the F55 category in style.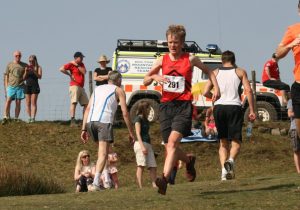 Janet Rashleigh winning F55 prize – photo by Mark Swindell
The men's team of Danny Hope, Gareth Booth, Luke Brindle and James Titmuss won the team prize with Brindle also winning the under-20 trophy. John Parker and Ray Stafford won the M70 and M80 categories, respectively, on a day that saw a good turnout of Harriers. Stafford beat the all-time M80 record by three minutes, while several Harriers and parents of junior Harriers made their debuts in the Pike race, inspired by the juniors who earlier had put on a great display of enthusiastic fell running, including Isaac Battye and Samuel Bradley both finishing second at u15s and u13s, respectively. The race gets valued support from Horwich Rotary and sponsorship from Walsh Sports and the Crown pub was the venue for the prizegiving where runners were also entertained with morris dancing by teams from Horwich, Rivington and others from as far afield as Essex and Wakefield.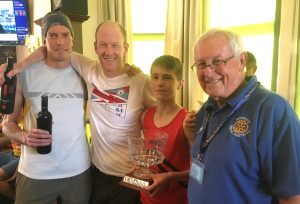 Rotary Club award Horwich mens team prize – photo by Alastair Murray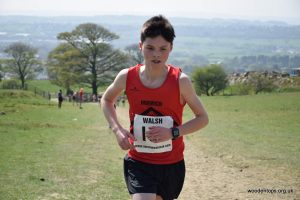 Isaac Battye – 2nd under-15 at Pike race – photo by woodentops.org.uk
The previous weekend there were fine efforts by the juniors at the Wigan Open event. Niall Maloney, Emma Bradley and Pip Nuttall were all second at their events and Beth Pendlebury won at shot putt. The sole senior Harrier competing was Ola Abidogun, who won the 100m. There were three firsts for the Harriers at parkrun this week with Phil Marsden at Witton, Milly Lever at Hafan Pwllheli and Charlotte Wilkinson at Queens Park after a third place the previous day in the u15 Pike race.
Horwich RMI Harriers results: Curley's 5k trail race – 1st Nick Leigh 17:10, 5th Glyn Kay 19:46, 6th Ian Cowlings 20:22, 20th Erica Booth 21:39, 21st Steve Williams 21:48, 65th Lawrence Pinnell 25:26, 71st Linda Webb 25:56, 72nd Michael Salmon 25:57, 80th Colin Andreassen 26:23, 90th Peter Ramsdale 27:07, 102nd Andrew Storey 28:14, 107th Gail Maxfield 29:02, 123rd Emma Collings 30:41; Hartcliff Hill fell race – 48th David Barnes 23:41; Rivington Pike fell race – 11th Danny Hope 20:16, 14th Gareth Booth 20:22, 17th Luke Brindle 20:44, 20th James Titmuss 20:54, 30th Joe Mercer 21:15, 32nd Dan Gilbert 21:28, 38th Matthew Wilson 21:45, 44th Mark Walsh 22:02, 59th Marcus Taylor 23:04, 83rd Graham Schofield 24:05, 98th Janet Rashleigh 24:32, 111th Steve Williams 24:47, 127th Doug Fleming 25:25, 164th Tony Hesketh 26:47, 170th Isaline Kneale 27:09, 185th Ronnie Isaacs 27:24, 196th David Barnes 27:53, 227th Lawrence Pinnell 28:54, 230th Peter Ramsdale 29:02, 262nd Michael Crook 30:10, 301st Michelle Mortimer 31:55, 312th John Parker 32:48, 345th Stuart Stokes 35:10, 348th Emma Collings 35:14, 363rd Ray Stafford 36:28, 377th Janette Bradley 37:51, 403rd Ed Swift 44:17; Helmsley 10k trail challenge – 120th David Barnes 51:34.