Junior Nuttall breaks six-year-old club record
11th April 2019
By David Barnes
HORWICH'S Pip Nuttall starred at the Lancashire County Combined Events and Open Pentathlon Championships competition at Hyndburn with an overall first place. Under-13 Nuttall was the only Horwich entrant and by the end of a long day she had six personal bests and a new club record. The first event was the 70m hurdles, where she came second, and followed that with a good shot put but slipped down to third place. Then, she pulled out two PBs – 1.41m in high jump and 4.44m in the long jump putting her back in first place. Nuttall finished the day with a good 800 metres, securing first place. Her points total of 2,204 points beat the club record from April 2013.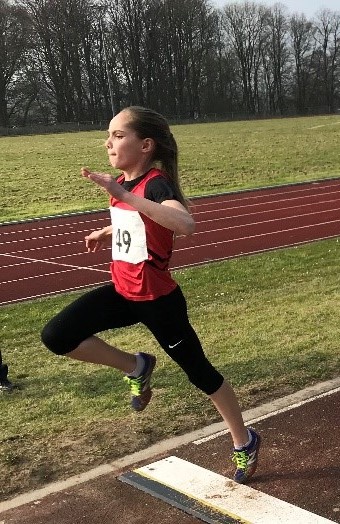 Another junior, Sebastian Isherwood, had a great debut in the Horwich vest in the Worden Park one-mile race on Saturday in Leyland. He finished third overall and first u11 in a sparkling time of 6:52, only 10 seconds behind the winner in a competitive field of more than 70 runners.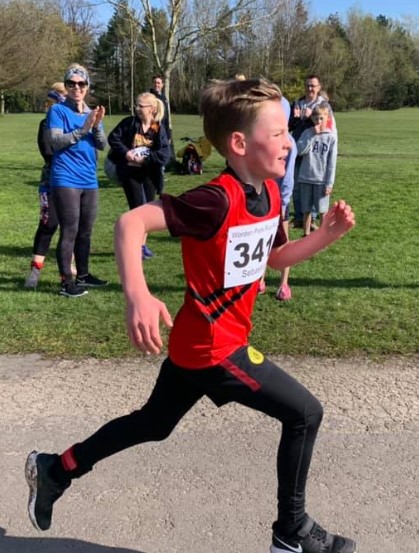 For the seniors, Tony Hesketh kept up his recent form by winning the MV70 category at Mad Bull Events' Rivington 10-Mile trail race – taking three minutes off last year's time in the process. His victory came just days after a second place in the same category at the Liver Hill fell race.
Mad Bull also put on the first in the series of three Curley's 5k trail races midweek and Glyn Kay, in his first full season since returning to racing, asserted his quality by finishing second overall and first MV45. In the same race, Lindsey Brindle won the women's prize in fourth place overall. Steve Williams launched his bid to win the MV60 series prize with a first place and Isaline Kneale was first FV50. Linda Webb was first FV55 and then was the second-placed FV55 in the Rivington Challenge.
Aidan McKenna made it three first places in a row at the Queens Park junior parkrun – one of four first-placed Horwich runners at parkrun this weekend.
James Jordan was first at Watergrove, Phil Marsden finished first at Fell Foot in Newby Bridge and Killian Mooney won at Cabinteely in Ireland. It was the second round of the Run the Moors Grand Prix at the Peter Hartley Liver Hill race and – unlike the first round where David Barnes was the only Horwich runner – this week there was a good turnout with another Horwich debutant, Peter Stevens, top scoring for the Harriers in 31st place.
The best fell result of the week was at the Pendle race where Alex Fowler was eighth. Geoff Leech had a good sub-45 minute run at the Fleetwood 10k and was pleased to meet on the finish line a Horwich legend, Ron McAndrew, who had spotted the Harriers vest. McAndrew won the club's Pike race three times in a row in the early 1970s and held an indoor world record at the steeplechase.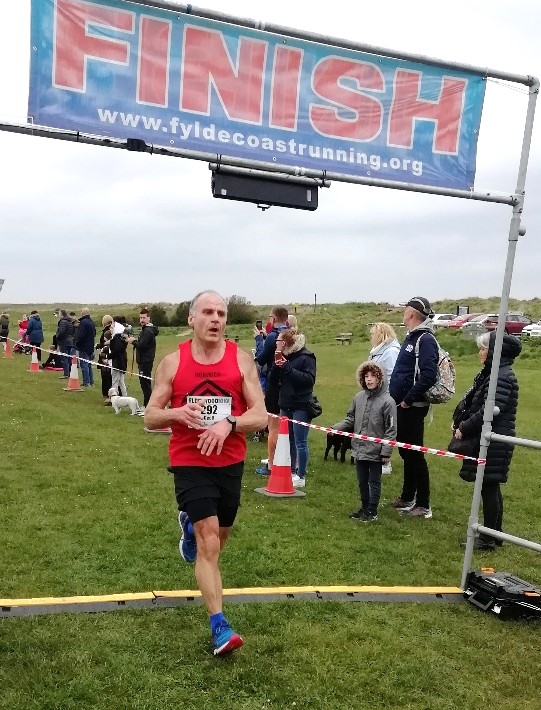 Horwich RMI Harriers results: Bunny Run (Wharfedale) – 4th Toby Middleton 16:47, 122nd Jason Middleton 27:11; Peter Hartley Liver Hill fell race – 31st Peter Stevens 38:41, 34th Dan Gilbert 38:55, 58th Graham Schofield 41:24, 66th Gary Chadderton 42:18, 103rd Doug Fleming 45:14, 125th Lawrence Pinnell 47:58, 128th Tony Hesketh 48:05; Curley's 5k trail race – 2nd Glyn Kay 19:39, 4th Lindsey Brindle 19:48, 5th Marcus Taylor 20:25, 15th Steve Williams 22:37, 19th Isaline Kneale 23:12, 29th Neil Wilkes 23:53, 50th Lawrence Pinnell 25:27, 63rd Linda Webb 26:22, 69th Michael Salmon 27:05, 70th Peter Ramsdale 27:09, 75th Andrew Storey 27:24; Pendle fell race (Barley) – 8th Alex Fowler 34:47, 23rd Robert Seddon 37:21, 30th Andy Lloyd 37:49, 33rd Mark Walsh 38:04; Greater Manchester Marathon – 1,028th James Titmuss 3:05:11, 4,569th Mark Kmiec 3:58:41; Darwen Heritage half marathon – 255th Kristina Mountain 2:32:32; Fleetwood 10k road race – 30th Geoff Leech 44:41; Rivington 10-Mile trail challenge – 59th Tony Hesketh 1:31:20, 76th Linda Webb 1:34:55, 78th Michael Salmon 1:35:05, 160th Gail Maxfield 1:52:06; Brun Valley 10k trail race (Burnley) – 31st David Barnes 48:00.