English Junior Fell Champs
English Junior Fell Championship Kettlewell – 13th July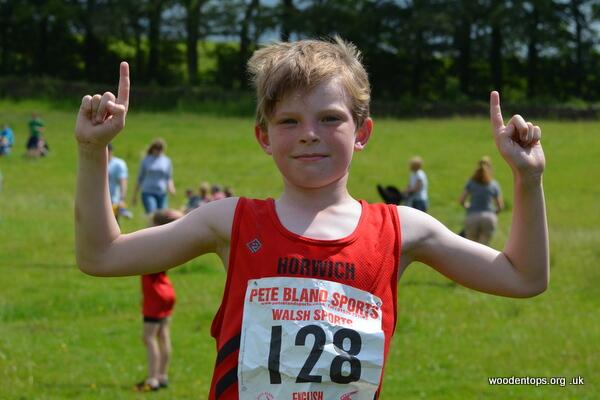 The final race in this years championship saw large entries in all the races.
The U/8 race saw Theo Middleton finish 14th after a good race and Grace Pendlebury 24th also ran well.
In the U/10 race Cian Healy won the race and also the English Championship after a very tough race taking the lead with 400 metres to the finish and won by 7 seconds. Toby Middleton was fifth after easing off whilst in third place. For the girls Freya Whittle had a brilliant run on a tough course to finish 30th and Ella Pendlebury was 32nd. The Horwich team was completed by Lydia Johnson in 40th who was making her debut on the fells.
In the U/12 race Tom Massey sealed a top ten finish with a brave run closely followed in 12th place by Nathan Lancaster. Another runner getting better with each race.
Harriet Foley was our only runner in the U/14 race and finished 41st in the 4k race.
These results mean that Horwich finish 15th in the team placings and seeing that most of the children were running on the fells for the first time it is a excellent first season.